After that earlier this month, another wave of games arrives to enrich the Xbox Game Pass offer for Xbox One, Xbox Series X | S, PC and Coud. From today, Tuesday 19 November, the green light goes off forF1 2021 And Need for Speed ​​Hot Pursuit Remasteredboth on Cloud, along with the cheeky cross between puzzle game and dungeon crawling byTurnip Boy Commits Tax Evasion (Cloud, Console and PC).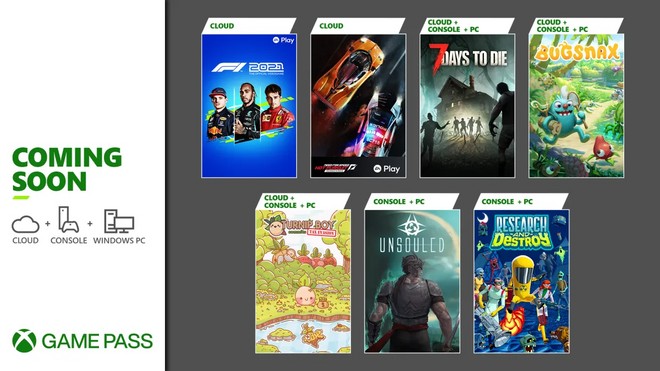 A week later, Tuesday 26 April, it will be the turn of the horror horror7 Days to Die (Cloud, Console and PC) and turn-based strategyResearch and Destroy (Console and PC). To close the dance will be the action RPGUnsouled (Consul and PC), Thursday 28 April, together with the nice and widely anticipated Bugsnax (Cloud, Console and PC).
Below, for convenience, we report the calendar of upcoming entries on Game Pass, with the titles accompanied by the date from which they will be available and the platforms on which they land:
F1 2021 – (EA Play): April 19, Cloud
Need for Speed ​​Hot Pursuit Remastered: April 19, Cloud
Turnip Boy Commits Tax Evasion: April 19, Xbox, PC, Cloud
7 Days to Die: April 26, Xbox, PC, Cloud
Research and Destroy: April 16 Xbox, PC
Bugsnax: April 28, Xbox, PC, Cloud
Unsouled: April 28, Xbox and PC, April 28
COMING AC ORIGINS AND FOR HONOR: MARCHING FIRE EDITION
But the news doesn't stop there. In fact, Microsoft took the opportunity to offer some delicious anticipation on the next entries in the Game Pass catalog, and revealed that "in the next months"Assassin 'Creed Origins is comingon Console, PC and Cloud through the Ubisoft Connect app. And not only that, because another important name on the horizon is that of For Honor in the Marching Fire Special Edition. At the moment the information stops there, and therefore there are no more precise indications on the dates.
Lastly, it should be noted that 12 games available via cloud gaming are updated and now provide touch control support: below you will find the complete list.
Ben 10
Besiege
Danganronpa Trigger Happy Havoc Anniversary Edition
Edge of Eternity
Hitman Trilogy
Lawn Mowing Simulator
Need For Speed ​​Hot Pursuit Remastered
Paw Patrol
Race with Ryan
Transformers Battlegrounds
Windjammers 2
Zero Escape The Nonary Games