We've known for quite some time now that the Whatsapp is working on the introduction of reactions to messageswith the first clues already emerging last August, and the introduction of the function on the beta channel which began only a couple of weeks ago, starting from the end of March, with version 2.22.8.3 of the app.
The functioning of this unprecedented function, therefore, is already clear to us at the current state of affairs. Just press and hold on a message to access the possibility of affixing one of the six reactions available: the classic thumb of like, the heart, the emoji that laughs to tears, the amazed one, the crying one, and finally two hands come in prayer. If these limited options are tight on you, and you feel you need to express your emotional state while also passing through other smilies, then there is good news for you.
MORE REACTIONS FOR EVERYONE
Apparently, in fact, from now to the final release things should change, and the version 2.22.9.4 of WhatsApp beta for Android provides proof of this. As emerges from the screenshot you see below, provided by WABetaInfo, the development team would be working on the possibility of expanding the range of emojis beyond the six currently known (listening to the feedback from the community, who immediately requested this addition, or following a plan already drawn up? It is not known, and it does not reveal much at this point).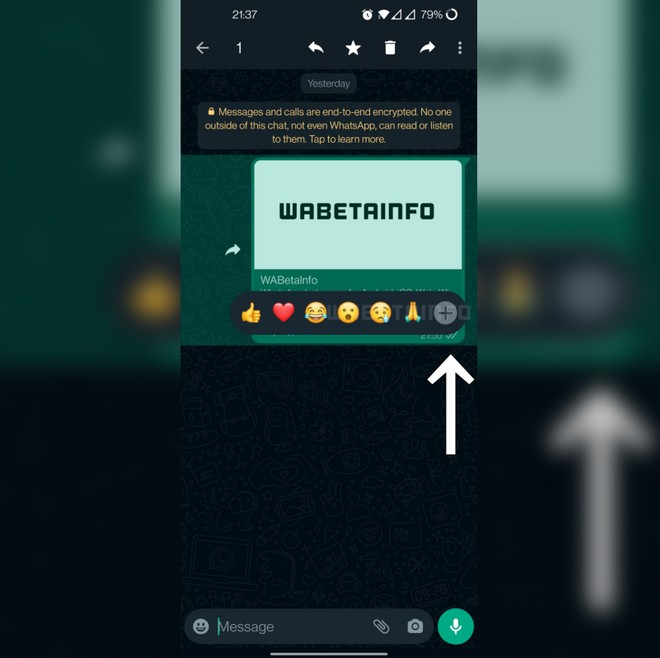 Everything is in thatthe "+" icon that appears to the right of the last of the six main reactions. Considering that Meta has also adopted this solution on Facebook Messenger, it is to be believed that the final version of the reactions of WhatsApp will be just like that. At the moment to find the new interface it was necessary to dig into the code of the latest beta, and therefore it is a function not yet implemented "on the surface". We do not know, therefore, if starting from that "+" it will be possible to access all the emojis, none excluded, as it is natural to hypothesize, or only to a further but in any case limited selection.. We will have to wait for the next versions of the beta to find out.