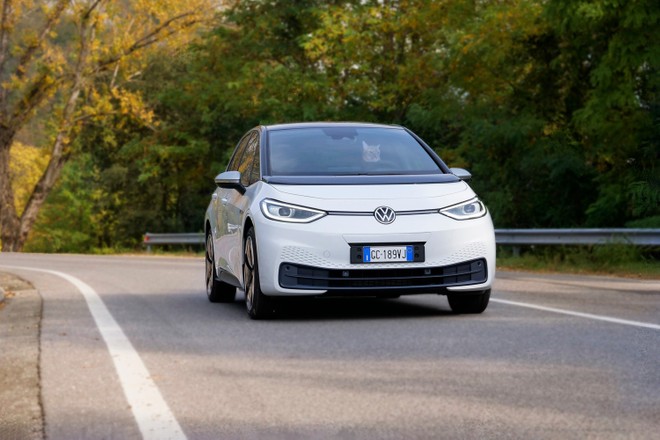 Volkswagen ID.3 returns as a protagonist for the test of real consumption by facing the BrianzaRing, a test circuit designed to put electric cars to the test in everyday traffic, with a bit of motorway, uphill and downhill roads and extras -urban (this is how the test and the route works). Today's star is the ID.3 Pro Performance, a name that identifies the 58 kWh net battery and the 150 kW rear-wheel drive engine.
The arrival of electric vehicles has also changed the management of press fleet cars: if in the thermal world, usually every year, the turnover among the means available for testing was greater, with electric cars it is possible to deal with older cars that have therefore more kilometers behind. The advantage is to be able to follow the evolution of the software and how much this is able to affect the autonomy, for this reason a new test with ID.4 is planned (as soon as possible) which will be among the first to have the new firmware 3.0 of the VAG group (we saw it in action on the Enyaq Coupé iV).
REAL CONSUMPTIONS: THE BRIANZA RING TEST
The test version is an ID.3 1st Plus, launch edition which in today's range corresponds, apart from specification, to the Pro Performance with a 150 kW (204 hp) engine and a 58 kWh net capacity battery. Pushed by the rear-wheel drive, the car achieved a result of 15.6 kWh / 100 km on a sunny but not particularly hot day, with the air conditioning still active and in an absolutely realistic journey, without looking for "eco-marathon" tactics .
The only precautions, as always, were those aimed at take advantage of braking energy recovery when convenientwithout ever representing an obstacle to traffic and overtaking other vehicles if necessary or if they represented an embarrassing stoppage to circulation (read "old man with hat").
On the motorway at 130 km / h there is between 22 and 23 kWh / 100 km of average consumption, thus reducing the autonomy (if you manage to have an average of 130 per hour) between 260 and 250 km with a charging.
Below are the data on autonomy and charging costs calculated on the real consumption detected in the test circuit. Rounding up on times and costs:
Real autonomy ID.3 58 kWh (204 HP): 372 km
How much does a refill cost ID.3 (58 kWh Pro): € 10
How much they cost 100 km with ID.3? € 2.7
Charging from home (2.3 kW – 10A): 25 hours
Charging from home (3.7 kW – 16A): 16 hours
AC charging station (7.4 kW, 32A): 8 hours
AC charging station (11 kW, 16A): 5.3 hours
DC charging column (100 kW max): 35 minutes (10-80%)
Important note: for uniformity, the consumption calculation is done with a fixed and fixed price rate (that of the undersigned) so as to have comparable figures even after months between the test of a model and that of one launched in a subsequent period. Since the average consumption and battery capacity are indicated, the reader has the task of calculating the costs based on his own household energy tariff, or based on use exclusively at public columns in the absence of a garage.
Remember that, even using only public top-up, there are subscriptions and packages that allow you to lower the unit price per kWh compared to the otherwise higher price of those who use occasional top-up.
PRICES AND INCENTIVES
Volkswagen ID.3 58 kWh is part of the 2022 electric car incentives? The answer is yes, the car can be had with a discount on the list price which, in case of scrapping, reaches up to € 5,000.
How much does an ID3 with incentives cost? It starts from € 29,850, price related to the version with 45 kWh of net capacity (ID.3 Pure Performance) taking advantage of all the benefits. To get the battery from 58 kWh you have to choose the ID.3 Pro Performance which starts from a price list of € 39,950 and is therefore accessible from € 34,950 with state incentives and scrapping.
VIDEO