Yes they can get few certainties and make many hypotheses by and on a post published by I live on the Chinese social network Weibo. The first certainty is that Monday 28 March it will be an important day for the company: this is confessed by the few lines accompanying an image from which the second certainty emerges, that is, that the event / announcement of Vivo will concern at least one product, the folding smartphone X Fold the web has been talking about for some time – and a few days ago it would also have been immortalized in a photo.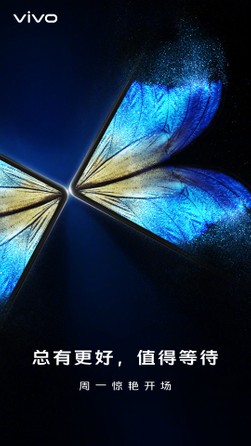 "There's always better, and it's worth the wait", the translation from Chinese made by Google. And then the reference to Monday with one term in particular that seems more than a suggestionespecially if associated with the above drawing: "Incredible opening Monday", the rough translation of Google. In short, the references to the Vivo X Fold are not lacking at all, but otherwise we can only make assumptions.
It is not clear, for example, whether on Monday Vivo will present the smartphone or if it will anticipate something more concrete than a stylized butterfly together with the date on which the launch event will take place in China. Also in the comments the company remains cryptic: "More surprises, see you on Monday!"we read under the post of a user who mentions the folding smartphone and the Vivo Pad tablet which has been mentioned in recent months but which has recently remained out of the spotlight.
Here, the hypotheses. We know that, apart from the fact that X Fold can be considered a certainty among the topics on Monday, Vivo has the top of the X Note rangewhich looking at the renderings circulating on the web already seems quite concrete and ready to show itself to the public, e the Vivo Pad tablet brought up by more than someone. It seems unlikely that Vivo can "burn" three cards at once; more likely that X Fold is the protagonist together with one of the other two projects.
Unfortunately the clues are scarce, but basically the truth is around the corner. See you Monday!
VIVO X FOLD, WHAT WE KNOW
display: (internal) 8-inch AMOLED in UTG (Ultra Thin Glass, same technology for the surface seen on Galaxy Z Fold3, so to speak); (external) 6.5-inch AMOLED
chip: Qualcomm Snapdragon 8 Gen1
cameras:

main rear: 50 megapixels
ultra wide rear: 48 megapixels
rear 2x zoom: 12 megapixels
rear 5x zoom: 8 megapixels

battery: 4,600 mAh

fast charging:

wired: 80 watts
wireless: 50 watts
VIVO X NOTE, WHAT WE KNOW
chip: Qualcomm Snapdragon 8 Gen1
display: 7-inch AMOLED E5 with 2K resolution (1440p)
memories: 12 GB of RAM and 256 or 512 GB of storage
four cameras rear, main 50 MP Samsung Isocell GN1
unlock: ultrasonic fingerprint reader in display
battery: 5,000 mAh, fast charging at 80 watts
VIVO PAD, WHAT WE KNOW