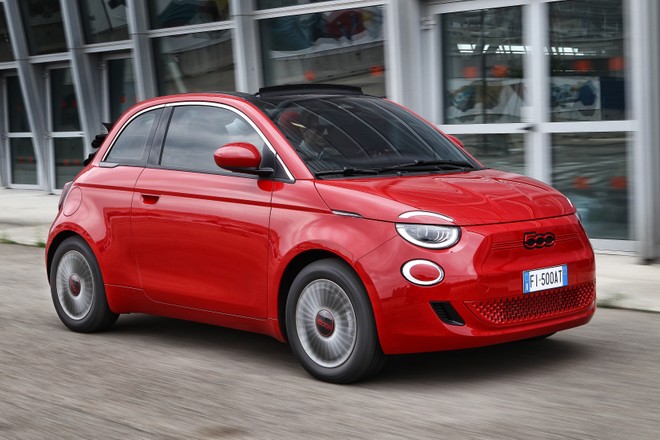 April 2022 was particularly negative for the Italian car market as there was a decline of as much as 33% compared to the same period in 2021. Among the various causes that led to this result, also the waiting for incentives. An expectation that is penalizing all segments a bit, including the electric one.
In April 2022, 3,050 battery-powered vehicles were registered against 4,857 units in 2021, equal to a decrease of 37.2%. 17.1% drop also for Plug-ins. Hybrids (Full Hybrid + Mild Hybrid) closed the month of April 2022 with a drop of 18% on 2021.
In this highly negative scenario, let's see which electric, plug-in and hybrid models were most requested by the market in April 2022.
TOP 10 ELECTRIC CARS APRIL 2022
Starting from the BEV models, the electric 500 closes the month of April 2022 in first position with 494 registrations. In second place we find the Smart Fortwo and to the third la Dacia Spring. Good fourth position for the Renault Zoe. The fifth and seventh place of the Volkswagen ID.4 and ID.3 should also be highlighted.

In the top 10 of electric no Tesla appears. Recall that in March 2022, the Model Y had been the best-selling electric in Italy. We know, however, that American car deliveries have never been linear. However, with the entry into operation of the German Gigafactory, deliveries of the Model Y should become more constant in the future.
Overall, 3,050 electric cars were delivered in April 2022, equal to a market share of 3.1%.
TOP 10 HYBRID APRIL 2022
We remember, as always, that the ranking of hybrid (HEV) also includes the mild hybrids. We always find first the Fiat Panda with 8,728 registrations. Second position for the Toyota Yaris Cross with 2,280 units. Third step of the podium, however, for the Lancia Ypsilon. The fifth position of the Fiat 500 and the sixth of the Toyota Yaris should also be highlighted. In April 2022, 34,524 HEV vehicles were registered, equal to a market share of 35%.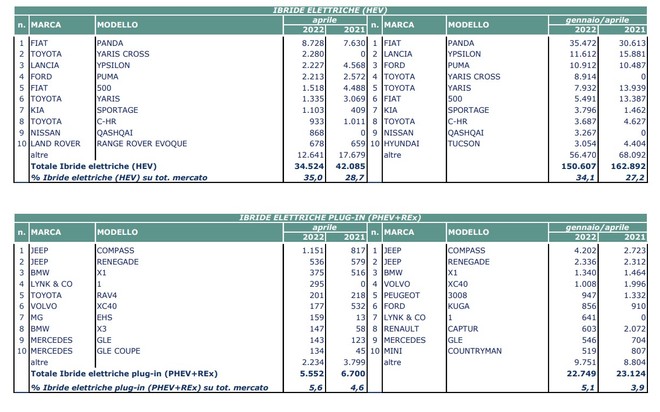 Moving on to Plug-insin the first two places we find, as usual, the Jeep Compass and Renegade. Third place, however, for the BMW X1. The fourth position of Lynk & Co 1 is very interesting. Overall, 5,552 PHEV models were registered in April, equal to a market share of 5.6%.
[Fonte dati: UNRAE]
VIDEO