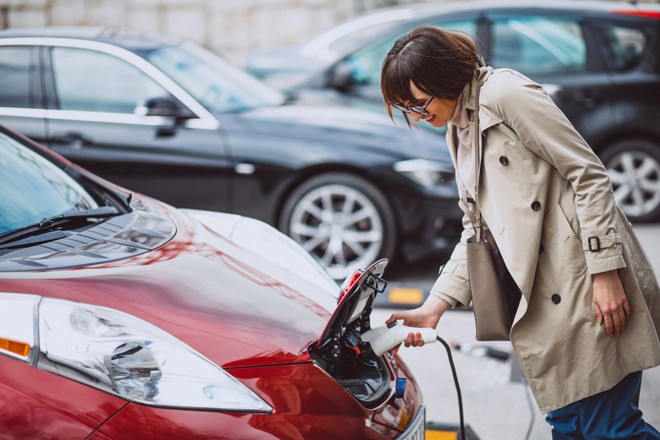 A capillary charging infrastructure is essential if you want to push the growth in the diffusion of electric cars. This is a very important issue that we have talked about several times. But how is it going the growth of the charging network in Italy? He thought about taking a picture of the situation Motus-Epublishing a report with updated data as of March 31, 2022.
INFRASTRUCTURE GROWS
According to what was told, in Italy there are 27,857 charging points equal to 14,311 columns. Infrastructures located in 11,333 locations accessible to the public. 77.3% of the infrastructure is located on public land, such as roads. 22.7%, on the other hand, in private areas such as supermarkets.
Data showing how the network is progressing in Italy. In fact, at the end of December 2021, a previous report by Motus-E told of 26,024 charging points. Therefore, there was a growth of 7% (+1,833 charging points) compared to the previous quarter, a growth rate higher than the + 5% of the quarter October-November-December 2021. Wanting to make a comparison with respect to a year ago, the growth was 7,100 charging points (+ 34%).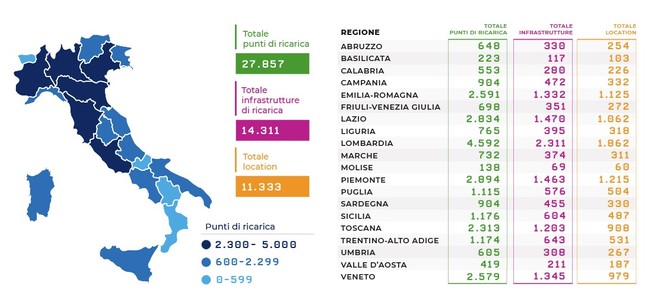 Motus-E adds that since September 2019, that is, since it began to carry out these surveys (10,647 charging points in 5,246 infrastructures) there has been a growth of + 162% and an average annual growth of + 47%. However, the report highlights a negative fact and that is that 12% of the infrastructures installed are not yet usable. Charging points not yet active for various reasons including lack of connection to the electricity grid.
This has been stable for several months. In March 2021 it was as much as 22% before falling to 12% in September and rising slightly to 13% in December. A decline that was made possible thanks to efforts to improve authorization processes. However, according to Motus-E, the time has come to take another step forward.
MORE CHARGING POINTS IN NORTHERN ITALY
The report also focuses on the power of the charging points. The 93% is in alternating current, while 7% in direct current.
16% of the points are at slow charging (with installed power equal to or less than 7 kW), 77% with accelerated or fast charging in AC (between more than 7 kW and 43 kW), only 3.5% fast DC (up to 50 kW) and the remaining 3.5% high power (of which 2% up to 150kW and 1.5% over 150 kW). We are witnessing installations with increasingly higher powers, for example by looking only at the recharging points installed in the last quarter, approximately 16% is in DC (with powers above 43 kW).
Geographically, the About 57% of the recharging points are located in Northern Italy, about 23% in the Center while only 20% in the South and the Islands. Furthermore, 32% of the recharging points are available in the provincial capitals and the remainder in the other municipalities of the territory. According to the report, Lombardy has 16% of all recharging points (4,592). Then followed Piedmont, Lazio, Emilia Romagna, Veneto and Tuscany.
In terms of absolute growth, the regions that grew the most in the last quarter are Piedmont, Emilia-Romagna, Lazio, Tuscany and Veneto. The regions that have increased their recharging points the most compared to December are Basilicata (+ 19%), Campania (+ 16%), Puglia (+ 15%), Calabria (+ 12%) and Sardinia. (+ 12%).
And on the highway how are we in Italy? According to the Motus-E report, there are 150 charging points, including 115 with fast or ultrafast charging. Considering a motorway network of 7,318 km, this means 1.6 fast or ultrafast charging points per 100 km.