The European car market continues to live in a difficult time. According to data from Jato Dynamics of the 27 European markets, in March 2022 there were 1,116,419 registrationsequal to a 19% drop compared to March 2021. Wanting to make a comparison with the pre-pandemic period, registrations in March 2022 show a decrease of 37% compared to March 2019.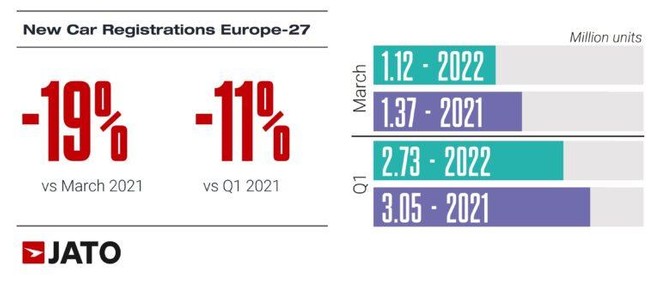 According to Felipe Munoz, Global Analyst of JATO Dynamics, the continuing uncertainty of the availability of new cars and the consequences of the outbreak of the terrible conflict in Ukraine on the supply of components also weighed on this result.
While Ukraine is not a large market for European car exports, with a small market relative to its population, it remains an important source of vehicle parts for major European manufacturers.
Looking at the first quarter of 2022 as a whole, the data shows an 11% drop in registrations compared to the same period in 2021.
GOOD PLUG-IN AND ELECTRIC
In a European auto market that is facing various difficulties, they keep going good plug-in and 100% electric models. Together, they totaled 244,801 registrations, surpassing those of diesel models (202,113). In particular, according to Jato Dynamics, there is a greater interest in low-emission models especially in countries such as Switzerland (28% of BEV and PHEV, 14% of diesel), United Kingdom (23% against 10%), France (21% versus 16%) and Belgium (24% versus 19%).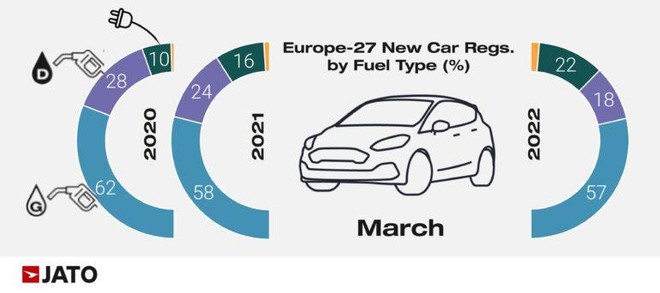 BEV models accounted for nearly 62% of all low-emission vehicle registrations in March, up 46%. In contrast, plug-in hybrids recorded a 22% decline during the month with 93,100 units registered.
TESLA MODEL 3 LEADS THE MARKET
And coming to the best-selling models in March 2022, the Tesla Model 3 once again beats them all. The electric sedan of the American company was the best-selling car in Europe with 23,013 units. This is not the first time this has happened. Another fact should be underlined. In third place in the overall standings we find the Tesla Model Y. A significant result that has allowed the American manufacturer to sell more than traditional brands such as Dacia, Citroen, Fiat and Nissan.

In the absolute top 10, we also mention the second place of the Peugeot 208, the fourth of the Volkswagen Golf and the fifth of the Dacia Sandero. In the electric classification, excellent third place for the electric 500 even if clearly detached, in terms of registrations.
[Fonte dati: Jato Dynamics]
VIDEO