eBay uses three adjectives to describe the plan aimed at marketing of refurbished products on its popular platform. Reliable, cheap And sustainable. The reliability comes from the fact that eBay claims that the sellers that are part of the program have been carefully selected. Furthermore, thanks to collaborations with important brands in the electronic market and with the best professional retailers, it is possible to offer products at more affordable prices. The last adjective is inherent to the type of sale: having as its object products reintroduced on the market, a circular economy is nourished which helps to reduce waste of resources and helps to safeguard the environment (just think of the forecasts on the quantity of CO2 produced by the suns smartphone by the end of the year).
WHAT IT OFFERS
The eBay "Refurbished Program" starts by including the most searched refurbished products on eBaythat means:
smartphone
smartwatch
Tablet
audio devices
small appliances
laptop
desktop computer
The company already makes it known that every two months will introduce into the program new brands and new product categories.
HOW TO BUY AND WITH WHAT ADVANTAGES
Buy a refurbished that is part of the eBay submits program several advantages to the buyer:
eBay guarantees that all products are authentic and of quality
shipping and returns are free. The return period is at least 30 days
products are inspected, tested and classified according to four conditions:

Certified refurbished: product in perfect condition, like new. It has been inspected and refurbished by the manufacturer or a manufacturer approved supplier
Excellent – Refurbished. Product in perfect condition, with no signs of use
Very good – Refurbished. Product in excellent condition, with minimal signs of use
Good – Refurbished. Product in good condition, with moderate signs of use

it is possible to buy refurbished products up to 30% cheaper than new equivalents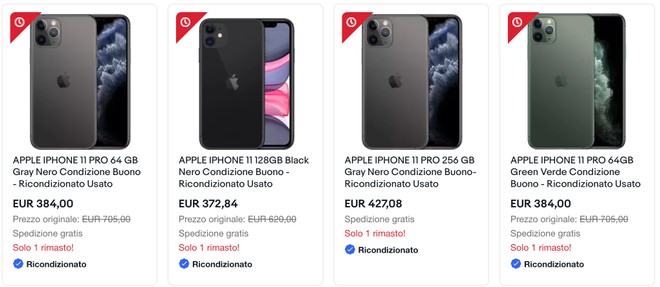 Buying a product that is part of the official eBay program is very simple: it's enough choose it through the dedicated section reachable by connecting to the following address:
The program is part of a larger project with which eBay wants to incentivize the refurbished market, as he explains Martina Colandrea, B2C Commercial Director eBay Italia:
The Refurbished Program eBay is part of a larger project that aims to improve the experience on our marketplace and the trust of our community. Through the development of dedicated projects and programs, we want to involve and make our users feel not only simple 'sellers and buyers', but an integral part of a real community, where they can exchange news, information and advice on the topics of new and refurbished. In this direction, in addition to the refurbished program, we are strengthening and expanding partnerships with brands, contaminations with other business models, such as C2C, the publishing and communication area, along with other innovations that we will introduce over the next few months. .