Starting last December, the refurbished AirPods market has encountered a big problem. To the point that, after four months, tens of thousands of Apple headsets are stuck in warehouses of major retailers, as reported by Business Insider. The refurbished AirPods, in fact, despite being fully functional at the hardware level, are then unsaleable.
The reason is that the headphones remain linked to the Apple IDs of previous usersi, who then resold them. And therefore when the new buyer associates them with their iPhone and selects them within the "Dovè" app, an error message appears on the smartphone notifying the mismatch between the user's ID and the one associated with the AirPods.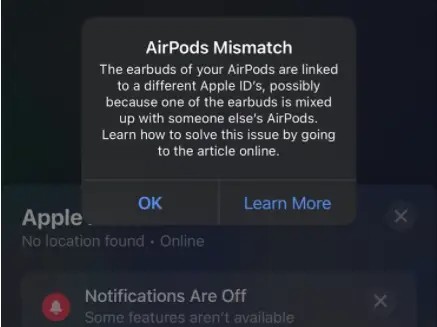 It should be noted that Apple suggests an involuntary exchange of a headset with some other AirPods owner as a possible cause: a hypothesis that actually, in environments where many use Cupertino products, could be plausible. But in this case we know that things are different.
THE CAUSES
But what exactly happens? The correct question would perhaps be the reversed one, because what generates this grain that is blocking the refurbished market is not an action, but a lack of action. Many users forget to perform the procedure to disconnect the earphones from their Apple ID before getting rid of them, or simply ignore their existence altogether. Et voila, the mess is done.
At the level of privacy this is no small problem, considering thatand through the "Where is" app the previous owners can continue to keep track of the location of the AirPods even after having sold them: and that's exactly what Ukrainian troops are doing to monitor the movements of the Russians using the looted Apple headphones.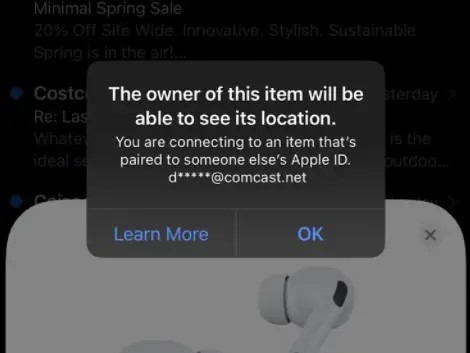 According to David Malja of goTRG, a refurbisher who handles returns for Walmart and other retailers, about 8 out of 10 AirPods suffer from this issue: and this has led the company to accumulate more than 30,000 AirPods afflicted by the problem in its warehouses in a few weeks.
THE FAULT OF APPLE ALSO?
As anticipated at the beginning, apparently the problem exploded around December 2021: the hypothesis is that an update to the earphone or iOS firmware has helped make it more common. And on the other hand, it's hard not to see a connection with the entry of the AirPods Pro and Max within Apple's Where's network.
Currently the situation is still to be clarified, also because an answer to the sellers' questions has not yet arrived from Cupertino. Although the behavior of users who forget to reset the earbuds to factory settings by disconnecting them from their Apple ID is at the root of the problem, the controversy against Apple is mounting in the industry: for reconditioners the responsibility would be with the manufacturer, who should not make one possible. scenario where the distraction of the first buyer corresponds to such a great risk in terms of privacy for any subsequent buyers.