The relationship between video games and the past is not linear and easily readable, but layered and increasingly complex. One of the factors that complicates the scenario the most is the digital market: if we want to preserve a physical copy we know how to do it and it will depend only on our care and attention, while to do the same with a digital copy things change.
An example of the complexity of the scenario that has caused much discussion in the last period is that of the closure of the Wii U and 3DS eShop by Nintendo. And in these hours, on the other hand, another affair is taking the lead, but it concerns Sony: from the reports of numerous users it emerges that both on PlayStation 3 and on PlayStation Vita some digital games have an expiration date (already in the past) which makes them impossible to play. Video games like yogurt, in short.
BEST BEFORE…
For example, who inspired by the launch from the recent remaster Chrono Cross: The Radical Dreamers Edition if he wanted to recover the original PS1 title he had licensed for PS3 and PS Vita, he would face a major disappointment.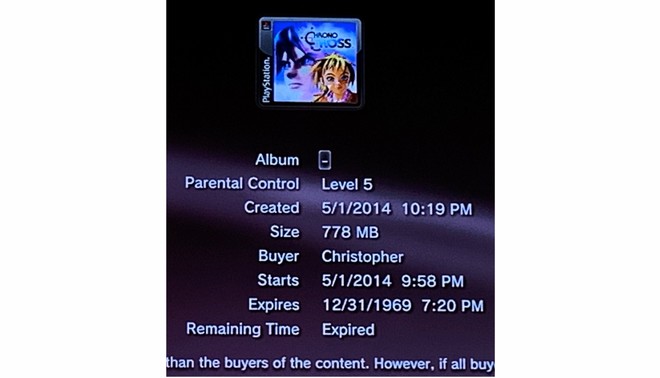 As you can see in the image above (shared on Twitter by user Christopher Foose), Chrono Cross is unplayable and expired on December 21, 1969 at 19:20. The date is obviously irrelevant and random: what matters, however, is that suddenly the possibility of playing some titles regularly purchased in digital format years ago has lapsed.
The problem does not concern only Chrono Cross (otherwise one could think of an unpleasant but isolated choice to push the very recent remaster), but reports of similar problems have arrived on Reddit and Twitter regarding Final Fantasy VI and Origins, Rune Factory Oceans , Super Street Fighter IV: Arcade Edition , Gex: Enter the Gecko, War of the Lions. This is not an exhaustive mapping of all the "disappeared", but a provisional list that takes into account the indications that have emerged so far: the list could be lengthened in the coming days.
SONY HAS NOT ANSWERED YET
At the moment there doesn't seem to be a solution to the problem: there are those who have tried to restore their console to factory settings, subscribe to PlayStation Plus and then unsubscribe and restore their game licenses, but all without obtaining any results.
From Sony, meanwhile, no official comment on the matter has yet arrived: in the current state of things, therefore, we do not know if this whole affair of expired digital copies is the calculated outcome of a precise commercial choice or of an unforeseen technical problem (perhaps linked to problems with the expiry dates of the licenses at the time Unix or from the arbitrary time and date set by developers to designate the beginning of a console's life).