We have been talking about a Google smartwatch for years: but in the last 12 months, and starting from last April with the first renderings, the rumors have started to intensify. Until, in recent weeks, the traces of an imminent launch have not increased dramatically between clues on the Google Store and sightings.
However, we have all always called it Pixel Watch: a natural name for a Mountain View product that wants to be symbiotic with the Pixel smartphone experience. However, until the announcement we will not have definitive confirmation that it will be Pixel Watch and not, for example, Google Watch. Although in this sense now we get one important confirmation from the USPTOthe US patent office that accepted the "Pixel Watch" trademark registration request on behalf of Google.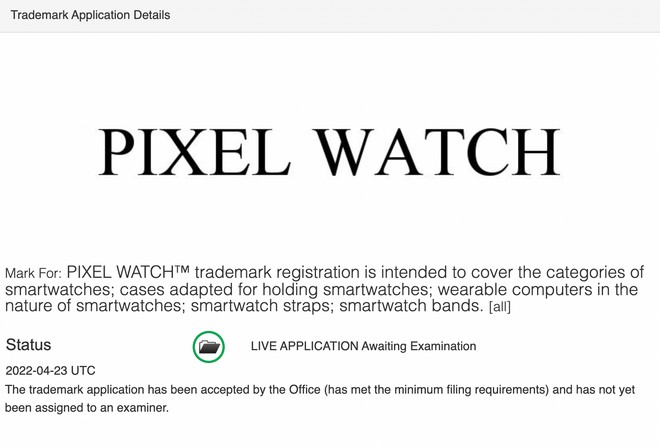 In reality, not even this data constitutes a definitive confirmation for the name "Pixel Watch": in fact, in Mountain View they may have decided to secure the trademark even just to obstruct any competitors, all always and in any case with a view to the imminent launch of one Google smartwatch – a fact about which doubts are now really at a minimum.
OK GOOGLE, BUT WHEN WILL PIXEL WATCH ARRIVE?
Launch shouldn't be long: it is natural to imagine that the Google I / O 2022, set for 11 and 12 May, could be the right occasion to finally remove the veil on the Pixel Watch. The latest rumors in this sense, however, are not encouraging: at the beginning of March there was talk of a possible postponement linked to the chip crisis that still has an important weight on the entire tech market. Pixel Watch should therefore arrive on the market ad Octoberbut it seems that Google has plans to show it in May anywaywell in advance of actual marketing.
In all this, then – and those who have had to deal with Wear OS in recent years know it well – the software issue should not be underestimated. For too long the Google Assistant on smartwatches has been completely broken, and in the only version of Wear OS 3 currently on the market (i.e. the exclusive version of Samsung's Galaxy Watch 4 and Watch 4 Classic) it is absent altogether, in order not to disfigure. It is therefore reasonable to expect that big G will be interested in launching its smartwatch only with a Google Assistant that is finally working, and considering all the difficulties it has encountered over time on this front, things are not necessarily so simple.
LIVE
And there are those who have thought of abandoning a prototype of Pixel Watch at the restaurant … Maximum secrecy about where it was found – it is known that it is in the United States – but those who sent the photos to Android Central preferred to remain anonymous. So here are the first live images of the smartwatch, a prototype not working – the screen turns on but stays on the G – and equipped with proprietary strap. The edges are very curved, it seems, and there is a crown to navigate the interface.