8K TVs have not yet managed to convince consumers. This is supported by an analysis conducted by Omdia and corroborated by some data and forecasts up to 2026. According to reports, 8K TVs accounted for just 0.15% of sales in 2021, for a total of approximately 350,000 units placed all over the world. In the last quarter of last year, however, there was an increase compared to the previous three months: we are talking about 95,500 8K TVs sold against 81,900.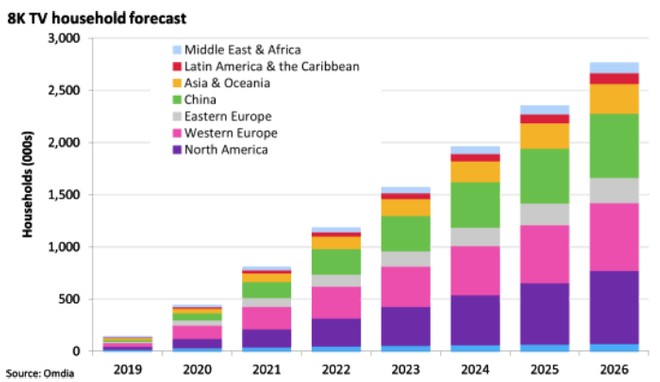 The most receptive markets, those where the numbers have been significant despite a substantial lack of native 8K resolution content, are China, Europe Western And North America. The brand that made the highest sales is Samsung, with a share equal to 65% of the total. Even analyzing the trends in perspective, there is no significant change of pace. Omdia argues that there are various contributing causes that have caused maximum definition televisions to lose momentum.
The aforementioned lack of content essentially determines the absence of really valid reasons to motivate the purchase. It is therefore no coincidence that sales were lower than in the last quarter of 2020 and the first of 2021. For the market leader Samsung, this trend translated into shipments that were 18% lower than the previous year.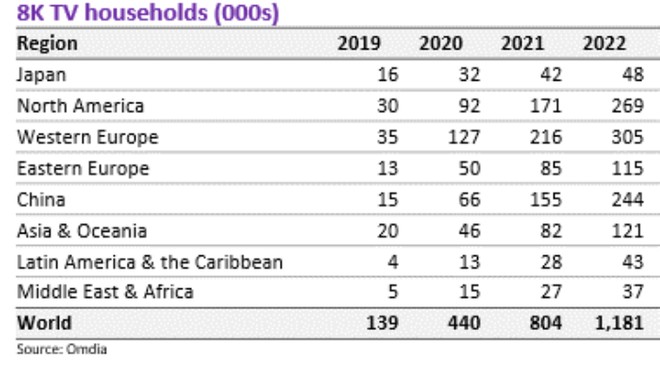 The still reduced installed base constitutes a brake on the diffusion of new 8K resolution services. The audience isn't large enough to justify a commercial interest, especially in a situation where content delivery platforms have yet to contend with handling Ultra HD.
Even in Japan, the first country to have a native 8K channel active (it is BS8K, broadcast on satellite since 2018 thanks to the Japanese state broadcaster NHK), there has been very minimal 8K penetration. For all these reasons it is expected that at the end of 2026 8K TVs will be present in 2.7 million homes.