March 29 is approaching and rumors about GeForce RTX 3090 Ti multiply, becoming concrete now in the first sightings of the new flagship NVIDIA on online stores . We remind you that the US company has not officially confirmed the debut date on the market of the RTX 3090 Ti, however various sources – even reliable ones – place the launch on Tuesday next week, barring last-minute unforeseen events.
Given the range of users to which it is aimed – without forgetting the price situation in which the market still pours – we know that this card will have a prohibitive price, at least at $ 1,799 / 1,999 MSRP and giving the green light to partners and resellers to " shoot "crazy figures to say the least. Unfortunately, this is what emerges from the first data arriving from Canada relating to the retail prices of two unpublished ASUS custom models of the GeForce RTX 3090 Ti.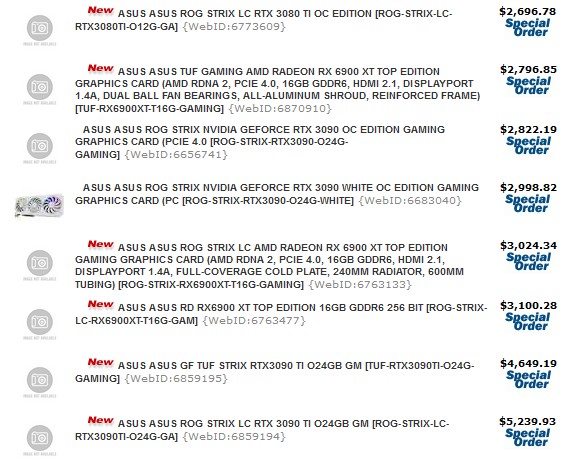 The information comes from the leaker momomo_us and concern the price list of an unspecified dealer who has (or rather had) entered the new ones ASUS TUF RTX 3090 and ROG Strix LC RTX 3090 Ti. Price?
We talk about $ 4,649 for the TUF variant And $ 5,239 (always Canadian) for the top of the range ROG Strix LC RTX 3090 Ti liquid cooled, therefore in line with what was predicted. As reiterated above, NVIDIA has not provided official details on launch date and price, but almost three months after the official announcement at CES 2022 we do not think the manufacturer can postpone further, unless it wants to "wait" for AMD and the refresh of the Radeon RX 6900 XT, that is the Radeon RX 6950 XT with 18Gbps GDDR6 memories.
These are currently the latest news on the most powerful GPU Ampere of the NVIDIA batch, a chip that will be further extreme for performance and consumption, without forgetting that it should be the first consumer graphics card to support the PCI-E 5.0 power connector.
GEFORCE RTX 3090 TI vs AMD RADEON RX 6950 XT
NVIDIA GeForce RTX 3090 Ti – Technical Specifications
GPU Ampere GA102 (8nm)
Cuda Core 10,752
24GB GDDR6X memory
Memory speed 21Gbps
384 bit memory BUS
Memory bandwidth 1,008 GB / s
PCI-E 5.0 12pin power supply
TDP 450W
AMD Radeon RX 6950 XT – Technical Specifications
Navi 21 XTXH GPU (7nm)
Stream Processor 5.120
16GB GDDR6 memory
Memory speed 18Gbps
256 bit memory BUS
Memory bandwidth 576 GB / s
PCI-E 8pin power supply (x2)
TDP 350W