The procedural universe of No Man's Sky, just like ours, it is constantly expanding. The developers of Hello Games, in fact, after having brought to the market in 2016 a product far from the initial promises, they did not lose heart and continued to work. And so, patch after patch, the cosmos of No Man's Sky took on life and volume, continuously enriching itself with possibilities and contents: an exemplary case of how to mend relationships with the community.
And now, 6 years after the launch and after the February release of the free Sentinel DLC, it's time to take off for what is the nineteenth free game update: it's 3.85, it's called Outlaw (in English Outlaws). And if at the center of Sentinel there was a revision of ground combat, here instead the focus is on the one in the space between the spaceships, as summarized in the official trailer that you find below.
PIRATE SHIPS, BLACK MARKET, FAKE DOCUMENTS
The update, which is already downloadable on all platforms the game has arrived on, introduces a new type of spacecraft, namely solar shipsas well as new weapons that allow players to experiment with new approaches in sidereal and ground combat.
But that's not all: the outlaws, in fact, have taken control of space stations across the galaxy. These outposts are dangerous places, but they are also a novelty for players ready to assault the passing ships.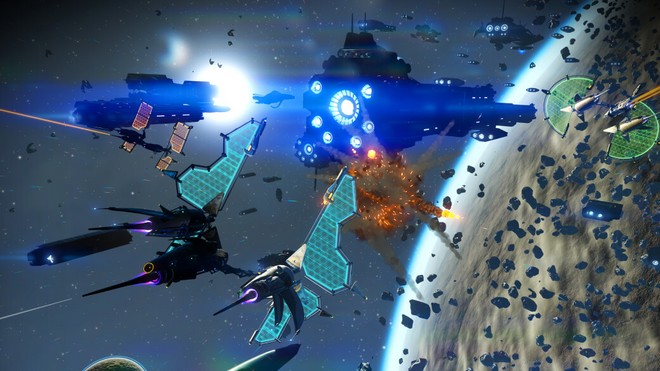 The players will then be able to face a series of missions that will lead them to the areas of rebellion made of pirate missions, exchanges on the black market and the possibility of buying valuables that are illegal in other parts of the galaxy. It will also be possible to acquire a false passport to deceive the authorities, and thus fully embrace the cause of the outlaws.
In addition, all players, not just smugglers, will benefit from the addition of specialized cargo inventories on all spaceships. These high capacity slots are capable of accommodating large amounts of load. And the most demanding players will also be able to unlock extra slots from the ship upgrade terminal found on all space stations.