At the base of Moon Knight, the TV series inspired by the Marvel comic that debuted just yesterday (Wednesday, March 30) on Disney + with the first of six episodes, there is the protagonist's relationship with his own identity and with a distant past made up of visions difficult to decipher, and capable of intervening on the present time.
Technology, with its beating rhythm that moves the horizon of the future a little further every year, makes us age prematurely. The past is formed more quickly, and coagulates in those forms that have marked it. We often say that smartphones are all the same, but then we just have to pick up the phone we used three or four years ago, and suddenly we seem to be dealing with an archaeological find, or almost.
HELLO, WHO IS SPEAKING?
Steven Grant, the protagonist of the series played by Oscar Isaac, is haunted by memories of a distant past, dating back to ancient Egypt. And this relationship with a past time, even if closer, is also rendered by the technological devices with which he comes into contact: in fact, in the first episode we can see both a Samsung Galaxy S9 (or perhaps S9 +, it is not clear), or the flagship that the Korean giant launched in 2019, is a much more recognizable and aged one Morola Razr V3 (that's right, the one from 2004, not the recent foldable revision).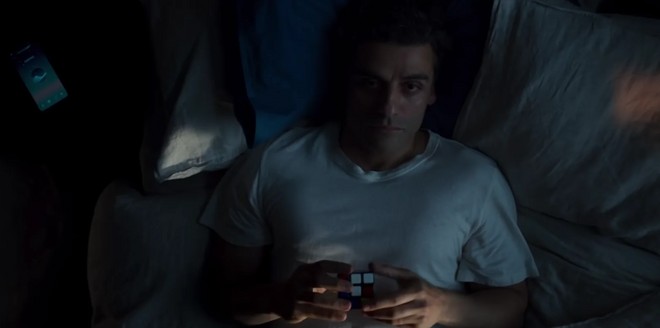 Moon Knight focuses on the splitting of the personality that is the basis of the whole superhero narrative (Clark Kent and Superman, Peter Parker and Spider-Man, Bruce Wayne and Batman …) refusing to solve it with a simplified synthesis, but putting it to value for investigating dissociative identity disorders. If Batman and Bruce Wayne are the same person, in short, Moon Knight, Steven Grant and Marc Spector are different individuals, with different lives, who compete for control of the same mind. If we asked on the phone "Hello, who is speaking?", it is not clear which voice would answer us on the other side.
WHEN THE NEXT EPISODES ARE OUT
For convenience, we report below the release dates of the next 5 episodes, each lasting between 40 and 50 minutes. It's all very simple, actually: one comes out a week between now and May 4th (which curiously is Star Wars Day).
Episode 1: already available from yesterday, Wednesday 30 March
Episode 2: Wednesday 6 April, at 09:00 CET
Episode 3: Wednesday April 13, at 09:00 CET
Episode 4: Wednesday April 20, at 09:00 CET
Episode 5: Wednesday 27 April, at 09:00 CET
Episode 6: Wednesday 4 May, at 09:00 CET
(updated February 28, 2022, 01:32 am)