The road to a zero-emission future for Mercedes is marked and not even so long: already by the end of these decades, in fact, the Casa della Stella plans to halve the CO2 produced by its activities compared to the values ​​of 2020. To get there, it focuses on three fundamental pillars which are a 100% product range electricity, "carbon neutral" production and a system based on the circular economy to make the battery life cycle less impactful.
ELECTRICAL ONLY WITHIN 8 YEARS
The plan regarding the product has already been explained in detail about a year ago: from 2026 Mercedes will launch only electric innovations and all the remaining models with internal combustion engine, including hybrids, will end their career by 2030, when the range will therefore become entirely "full electric". To do this, it will rely on 5 new platforms: one for the compact, one for the medium and higher models (that of EQE and EQS), one for the AMG and one for the medium-sized commercials and one for the Large, which will already debut. next year with the new eSprinter.
GREEN BATTERY FROM EXTRACTION TO DISPOSAL
Fundamental to the whole process it will ensure that the batteriesa basic and delicate element, reduce their impact. To do this, the company is developing new chemical formulas to eliminate the need for Cobalt, a rare and highly polluting metal in the extraction phase, and geese recycling processes should lead future batteries to be recoverable and reusable for 96% of their components. , as well as produced with reduced energy consumption and renewable energy. This last point will also involve recharging: like other manufacturers such as Kia, in fact, Mercedes is working to ensure that the energy fed into the grid by energy companies for each recharge of its cars is obtained without fossil fuels.
FACTORIES AND MATERIALS
Here, too, we start from energy, with the aim of reaching 70% of our total needs with electricity generated from sustainable sources, in particular wind and solar, self-produced with plants in the same plants or purchased from certified producers. The other aspect is the continuous improvement of production processes to reduce consumption, minimize waste and the generation of waste. Like batteries, components and materials are also aimed at reducing CO2 emissions and general pollution.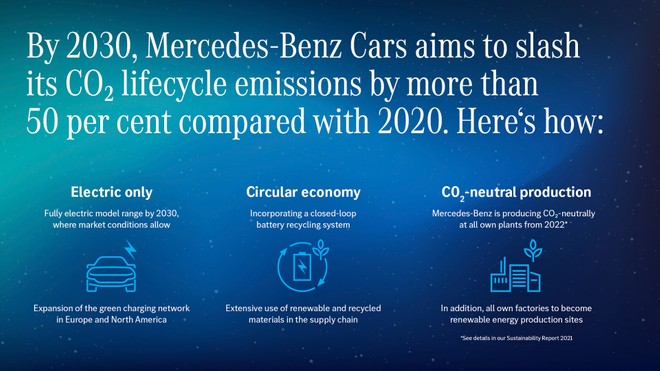 Efforts in this direction include, for example, steel produced without the use of hard coal which will be introduced in 2024, new plant-based materials obtained from municipal waste, fabrics and plastic components recovered from the oceans and recycled. Where it is not possible to cancel the missions, the aim is to compensate them with various initiatives including reforestation projects, i.e. planting new trees that absorb the equivalent carbon dioxide emitted to the plants.
ETHICAL COMMITMENT
In addition to all these processes, there is a transversal value to the activity, which is that of well-being: Mercedes is also committed to promoting policies of equality including wages, respect for women and equal treatment also with regard to the election to important offices. , guarantee of human rights for all workers involved at every level of the production chain, starting with suppliers and their supply chains.