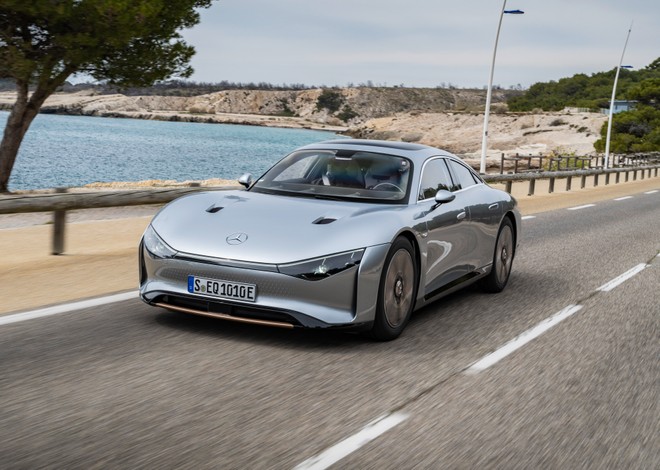 Mercedes Vision EQXX has managed to drive on roads open to traffic just over 1,000 km on a single battery chargegetting a consumption of just 8.7 kWh / 100 km. A few days ago, Mercedes announced that its concept car had taken to the road for a series of tests to improve its efficiency. Now, we discover that these tests have allowed the car to obtain a very interesting result, especially considering that the technology present on the Vision EQXX will be integrated in the future in the new electric models of the German brand.
VERY HIGH EFFICIENCY
When the concept was unveiled, Mercedes pointed out that it was its most efficient model. The result of the test conducted on the road which saw the participation of the independent body TÜV Süd confirmed the goodness of this project.
The 1,000 km were driven on roads under real traffic conditions. The Mercedes Vision EQXX traveled through Germany, Switzerland and Italy (via Milan), before arriving in Cassis near Marseille in the South of France. The car tackled a mixed route, also traveling on the motorway and tackling mountain passes, with temperatures between 3 and 18 degrees.
According to the German car manufacturer, the Mercedes Vision EQXX has traveled exactly 1,008 km at an average speed of 87.4 km / h with an average consumption of 8.7 kWh per 100 km. The maximum speed reached on the motorway was 140 km / h. Upon arrival, the battery still had 15% charge equal to an indicated range of 140 km. This means that it would have been possible to continue further.
The test therefore showed the very high efficiency of this concept car. The manufacturer highlights how the careful work on aerodynamics – theauto has a Cx of 0.17 – made it possible to contain consumption at motorway speeds. In addition to exploiting the advantages of active aerodynamics, the Mercedes Vision EQXX was also able to take advantage of low rolling resistance tires specially developed by Bridgestone.
Despite the battery from just under 100 kWh, Mercedes managed to keep the weight of the concept car to 1,755 kg. The weight savings made themselves felt especially on the Alpine passes. The manufacturer has highlighted, in fact, that in this way it has been possible to contain consumption uphill. During the descents, the car was able to use the regeneration system to recover energy. In addition, the prototype features a roof with solar panels integrated which made it possible to obtain approx Additional 25 km autonomy.
Recall that the Mercedes Vision EQXX has a platform capable of supporting a 900 V architecture and uses a 180 kW powertrain. For its design, the German manufacturer also made use of technologies that come from Formula 1 and Formula E.