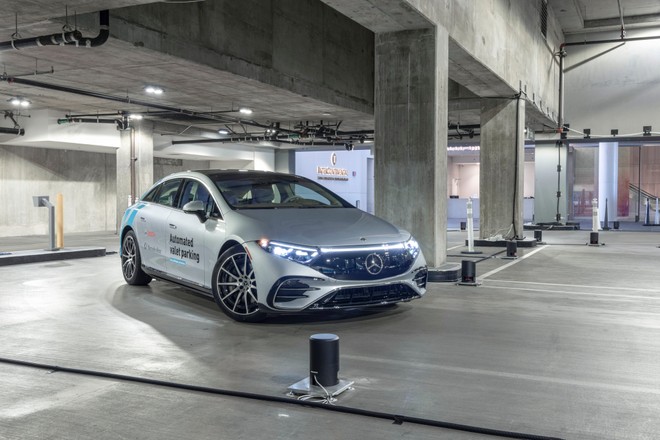 Mercedes showed again how the autonomous parking system works "Automated valet parking"jointly developed with Bosch, in Los Angeles and precisely at the InterContinental Los Angeles Downtown hotel parking lot. A test aimed at demonstrating the potential advantages of using this technology in structures equipped with large parking lots such as hotels, airports and more.
The new electric Mercedes EQS flagship equipped with the Intelligent Park Pilot function. This is not an absolute novelty as the manufacturer had already shown how this technology works. We also had the opportunity to attend a demonstration during the 2021 Munich Motor Show.
HOW DOES IT WORK?
The purpose is to make the much easier and faster parking management. The driver arrives inside the parking lot and leaves the car in a specific area. Once all the passengers have exited, the autonomous parking process can be started through an app. The vehicle interacts with i Bosch sensors present inside the parking lot to be able to move and park independently.
The sensor system in the car park checks whether adequate space is available or whether a space has already been reserved for the vehicle. The car is then started automatically and moves without a driver into the parking lot thanks to Bosch infrastructure. The technology in the car converts sensor commands into safe driving maneuvers.
Upon return, the driver can call the car that will come out of the parking lot by itself to go and stop in the area where he left it upon arrival. The car park with automated collection and delivery service has advantages both for car owners who will waste much less time looking for a free space and to park and for those who manage large car parks as they will be able to optimize their management.
Bosch said it is continuing to work on this technology to further improve the sensors that "guide" cars into the parking lot.
VIDEO