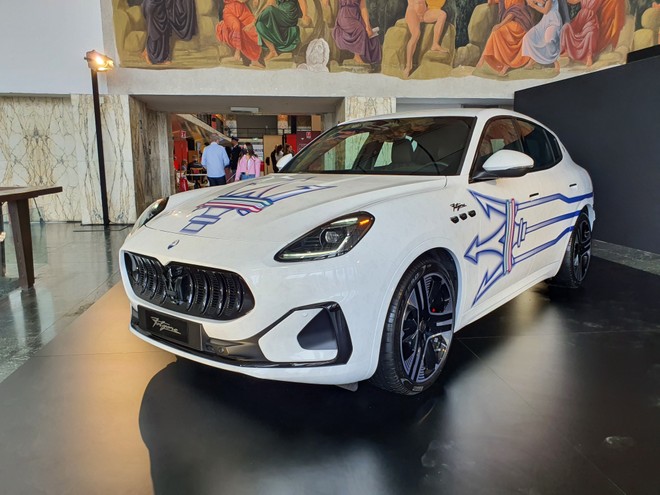 Maserati Grecale Folgorethe 100% electric version of the new SUV of the House of the Trident, will arrive in 2023 but, in the meantime, we were able to see it live. The opportunity has happened at the Formula E Rome E-Prix that we have been able to follow closely, also going to "browse" inside the pits. We will have the opportunity to talk about the electric single-seater race later. In the meantime, we bring you some photos of the electric SUV that we managed to take.
Maserati, on the eve of the Rome E-Prix, announced that it had chosen the Venturi team for its adventure in Formula E. The manufacturer therefore wanted to take advantage of this stage also to showcase its future electric SUV.
FIRST LOOK CLOSE UP
The really interesting thing was that the Grecale Folgore was not only exposed but also accessible to all in the sense that it was possible to open the doors and get inside. In short, we had the opportunity for a few minutes to take a closer look at this model.
As mentioned at the beginning, the market launch is expected next year. So it's possible that Maserati may still want to make some minor tweaks to the car. The car does not look very different from the endothermic model presented towards the end of March.
Apart from the livery, the complete lack of tailpipes is obviously noticeable. It can then be observed that the SUV has alloy wheels with a specific design aerodynamically optimized. On the bodywork we also find several "Folgore" badges. Inside, however, there are no particular differences with the cockpit of the endothermic Grecale.
The digital instrumentation has a 12.3-inch screen, the same size for the infotainment display equipped with an Android-based operating system. Under the central display there is an additional 8.8-inch touch screen through which people can manage some functions such as those of the air conditioner. Even those who sit in the back have access to a small screen that allows you to adjust the parameters of the air conditioner.
Of this car we know it will be based on one modified version of the Giorgio platform capable of supporting a 400 V architecture. There will be a dual electric motor powertrain that will allow the SUV to have all-wheel drive. For the moment there is talk of a figure of 800 Nm of torque. The battery will have a capacity of 105 kWh.