Lenovo presents on the Italian market the seventh generation of Yoga Slim notebook, a line of products designed to offer maximum flexibility in hybrid environments, combined with top-of-the-range performance and a series of proprietary hardware / software optimizations that improve the user experience. Several notebooks announced, joined by a new one PC AiO and further refreshes of models already on the market; But before we go any further, here are the statements by Ouyang Jun, vice president and general manager of the Consumer Business Segment, Lenovo's Intelligent Devices Group, regarding this spring announcement:
Hybrid mode is the new normal that inspired the development of this generation of Lenovo Yoga devices. Our mission is to be able to give the greatest number of people the possibility of 'being themselves' in consumption, creation, and collaboration. each in their own way. We have designed and developed the new Yoga PCs with intelligent features and an even better user experience to help people realize their ambitions, relax, and do things the way they want.
Going into detail, Lenovo today presents:
YOGA SLIM 9I – YOGA SLIM 7I CARBON
Let's start from Lenovo Yoga Slim 9iCarbon Neutral certified premium range Windows 11 notebook which, in addition to performance, focuses on an original design characterized by a 3D glass coating with rounded edges; we are talking about a very compact device with a thickness of 14.9mm and a making it ideal for use on the go. On board we find a 14-inch OLED Pure Sight touch panel with resolution up to 4K (16:10 3840x2400p), VESA DisplayHDR 500 True Black certified and 100% DCI-P3 space coverage.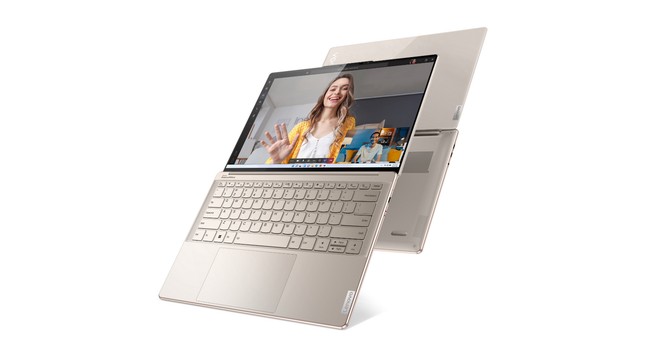 An excellent display then that is accompanied by an equally valid Bowers & Wilkins audio department and a hardware platform based on Intel Core 12th gen P series (Intel EVO) with processors up to Core i7 and 16 / 32GB of LPDDR5 5600 RAM; the storage department is also updated to the latest PCI-E 4.0 standard (max. 1TB), while on the GPU side we find the Intel Xe integrated graphics. Finally, there is no lack of WiFi 6E and Thunderbolt 4 in addition to support for Artificial Intelligence features (see Lenovo AI Core 2.0), the battery instead has a capacity of 75.5 WHr and should guarantee up to 14.5 hours of autonomy with support for fast charging (15 minutes of charge for 2 hours of autonomy).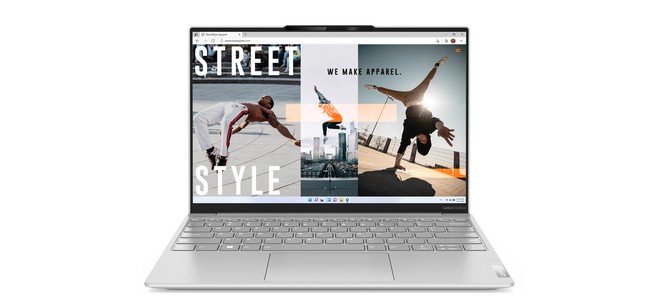 For those looking for an even more compact and versatile solution, which, however, does not give up on performance, Lenovo offers Yoga Slim 7i Carbon. Equipped with one this notebook weighs only 970 grams (14.8mm thick) and uses a 13.3 "IPS panel with factory calibrated 2560x1600p (2.5K) resolution and Dolby Vision certified; remaining on the display theme, we find the optional touch and a 100% sRGB coverage, also to report the refresh rate that reaches 90Hz.
As for the configuration, the company resumes more or less what was seen on Yoga Slim 9i, except for the RAM that goes from LPDDR5 5600 to LPDDR5 4800. The storage reaches 1TB, the audio is branded Harman Kardon and there is no lack of Thunderbolt 4.0 , Display Port, USB-C plus WiFi 6E and Bluetooth 5.1; the battery is also different, a 50 WHr unit with Rapid Charge Express support.
YOGA SLIM 7I PRO X – YOGA SLIM 7 PRO X
With Lenovo Yoga Slim 7 PRO X let's go up the level slightlynot so much for the quality that remains in line with the other models, but rather for the graphics department which in addition to the integrated GPU also offers a dedicated graphics cardin detail one GeForce RTX 3050. Available in two variants with AMD and Intel CPUsrespectively Yoga Slim 7 PRO X and Yoga Slim 7i PRO X, this notebook is equipped with a 14.5 "IPS panel with options up to 3Ksupport NVIDIA G-Sync and a refresh that reaches 120Hz; also in this case the touch is optional, while with regard to the other technical specifications we point out the factory calibration, 100% sRGB coverage as well as TÜV and Dolby Vision certifications.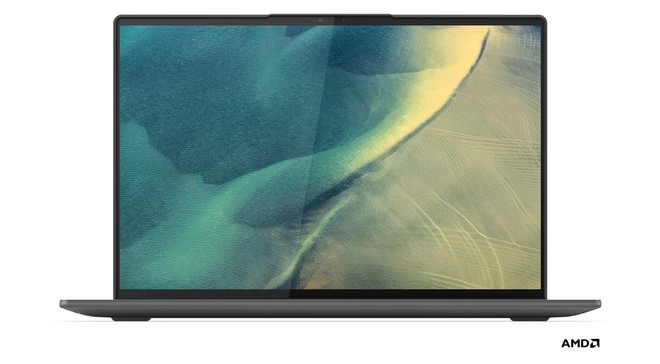 Given the aforementioned characteristics, it is not surprising that the weight of these models rises up to 1.45 kg with a thickness of 15.9 mm. Common features of the two products are the 70WHr battery, 32GB of LPDDR5 6000 RAM (6400 for AMD), Harman Kardon audio with Dolby Atmos and a large expansion department that offers WiFi 6E, USB 3.2 Gen 1/2, USB-C, Thunderbolt 4 (Intel) plus 1080p webcam with Camera Shutter.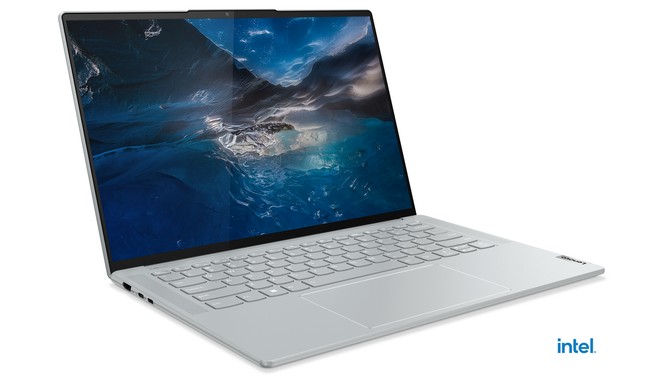 Regarding the two hardware platforms instead, the Intel variant uses processors from the Core H 12th gen series (up to Core i7), the AMD one can count on the recent Ryzen 6000 with options up to Ryzen 9 6900HS; Finally, it should be noted that Lenovo offers two options for the dedicated GPU which, in addition to the GeForce RTX 3050, provides a cheaper GeForce GTX 1650 (always with 4GB of VRAM).
YOGA SLIM 7 PRO 14 – YOGA SLIM 7 PRO 16
Along with the news seen so far, the Chinese company also offers a substantial upgrade for the much-loved Yoga Slim 7 Proavailable in variant from 14 or 16 inches, with both AMD and Intel latest generation processors (Yoga Slim 7 14/16 and Yoga Slim 7i 14/16). Designed for those looking for level performance, without too many frills, these laptops nevertheless boast a careful design with aluminum chassis and will be available in two colors, Storm Gray and Cloud Gray. The two 14-inch models – Yoga Slim 7 14 and Yoga Slim 7i 14 – share a 2880×1800 pixe OLED panell (2.8K) at 90Hz, always with 16:10 format and a Dolby Vision certification that goes with a 100% DCI-P3 coverage; even in this, Lenovo focuses heavily on the display to ensure the best possible experience, while at the same time combining graphics options ranging from the new integrated AMD Radeon 600M to the GeForce RTX 2050.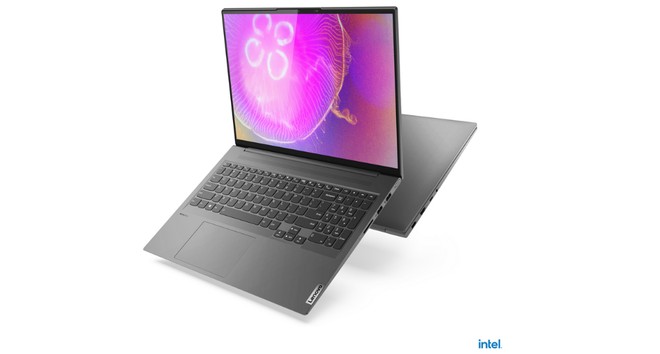 Both models mount LPDDR5 memories (max 16GB) which on the AMD platform reach 6400 MT / s while they drop to 4800 MT / s on the Intel one; the latter is represented by the Core 12th gen H-series and P-series (max Core i7) processors, while for AMD there are three options that include among others the Ryzen 9 6900HS Creator Edition. Depending on the configuration, the notebooks have a weight that varies from 1.3 to 1.4 kg, also guaranteeing an autonomy between 10 and 17 hours in the various usage scenarios thanks to a 61 WHr battery. The rest of the technical features instead does not differ from the products seen previously and provides support for the latest generation standards such as Thunderbolt 4, USB 4.0, USB-C and USB 3.2, WiFi 6E and an audio department with Dolby Atmos.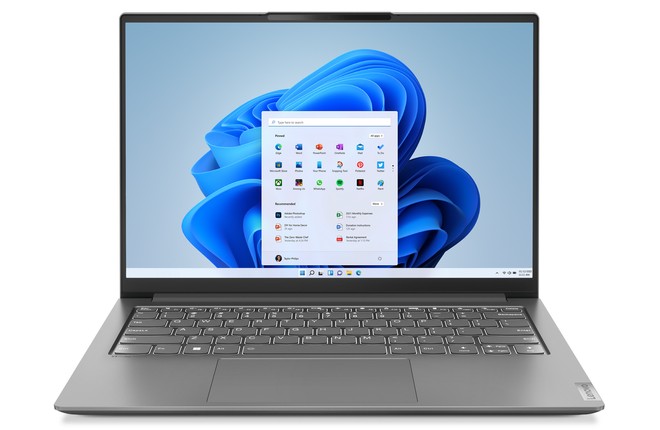 The 16-inch versions, respectively Yoga Slim 7 Pro 16 (AMD) and Yoga Slim 7i Pro 16 (Intel)they basically move on the same lines (especially for CPUs), all with a 16 inch 2.5K touch IPS panel (2560x1600p) with a refresh rate of 165Hz. Given this feature, it is therefore not surprising to see dedicated graphics options that come up to the GeForce RTX 3050 Ti for the AMD build and the new Intel Arc A370M from Intel announced a few weeks ago, leaving the user the opportunity to try their hand at some detailed games. tall. Last but not least, the battery department (75 WHr), the 16GB LPDDR5 RAM and the WiFi connectivity which, unlike the other Yoga models, includes a 2×2 AX WiFi module. We close with the data relating to dimensions and weight, obviously increased compared to Yoga Slim 7 Pro 14: we are talking about a thickness of 17.4mm for a weight of 2.1Kg.
YOGA 7 – YOGA AIO 7
Optimized for entertainment and creativity, the Lenovo Yoga 7 it is a convertible platform based that matches a 14 "2.8K OLED display to integrated graphics Radeon 600M. The touch panel is the same seen on Yoga Slim 7 Pro 14, capable of a resolution of 2880×1800 pixels and brightness of 400 nit; this solution also provides 100% DCI-P3 coverage as well as Dolby Vision and VESA DisplayHDR TrueBlack 500 certification.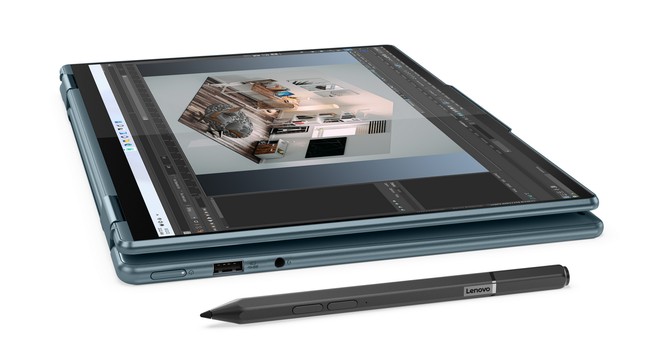 Aesthetically pleasing, thanks also to a frameless design, this 2-in-1 notebook has a thickness of 17,35mm and weighs 1,4Kg; the colors available will instead be Storm Gray and Stone Blue. By switching to the platform, the user can choose between a Ryzen 5 6600U or a Ryzen 7 6800U, up to 32GB of LPDDR5 RAM and a PCIe SSD of 256/512 or 1024 MB; the graphics are always the integrated AMD one while for expansion / connectivity we find two USB-C ports with USB 4.0, Display Port and Power Delivery, HDMI 2.1, MicroSD reader as well as WiFi 6E and Bluetooth 5.2. Finally, for the battery, Lenovo uses a 71WHr unit that guarantees up to 18 hours of battery life.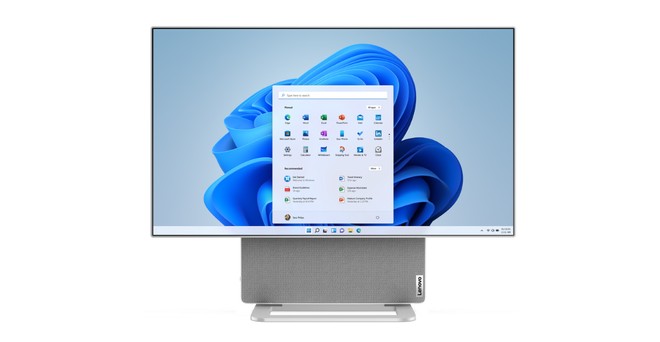 Let's close this roundup with the new one Lenovo Yoga AiO 7, a system designed for those who want a fixed desktop station which, however, minimizes the dimensions. The All-in-One PC is equipped with a large 27-inch 4K display, an IPS panel with a 95% DCI-P3 gamut set in a very thin bezel; the ergonomic hinge moves with the pressure of a single finger and allows various adjustments as well as a rotation of 90 degrees, thus ensuring a good possibility of customization in the various scenarios of use or when playing.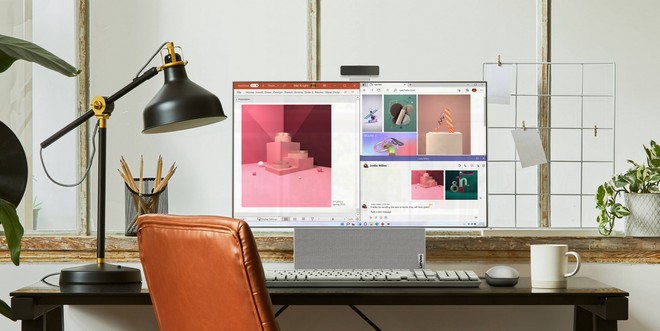 Gaming, at 1080p, is in fact easily within reach of this Yoga AiO 7 which can count on a Ryzen 7 6800H and a Radeon RX 6600M with 8GB of VRAM. As for the other Yoga products seen today, moreover, it will be possible to configure RAM (LPDDR5 16 / 32GB) and storage (from 256GB to 1 TB) with a good I / O capacity that offers seven USB ports (including USB-C and USB 3.2 gen 2), Display Port (out), LAN port and combo audio jack; the WiFi 6 module with Bluetooth 5.1, the 5MP IR camera and a generous audio department with two 5-watt JBL speakers.
AVAILABILITY AND PRICES
The new Lenovo Yoga PCs will be available starting this summer, following the base prices of the various models:
Yoga Slim 9i (14 ") will be available starting from 1,899 euros
Yoga Slim 7i Pro X (14 ") with Intel Core processor starting from 1,399 euros
Yoga Slim 7 Pro X (14 ") with AMD Ryzen 6000 starting from 1599 euros
Yoga Slim 7i Carbon (13 ") starting from 1,399 euros
Yoga Slim 7 Pro (14 ") with AMD Ryzen 6000 processor starting from 1,399 euros
Yoga Slim 7i Pro (14 ") with Intel Core processor starting from 1,099 euros
Yoga Slim 7 Pro (16 ") with AMD Ryzen 6000 starting from 1,499 euros
Yoga Slim 7i Pro (16 ") with Intel Core processor starting from 1,549 euros
Yoga 7 (14 ") starting from 1,399 euros
Yoga AIO 7 (27 ") starting from 2,599 euros