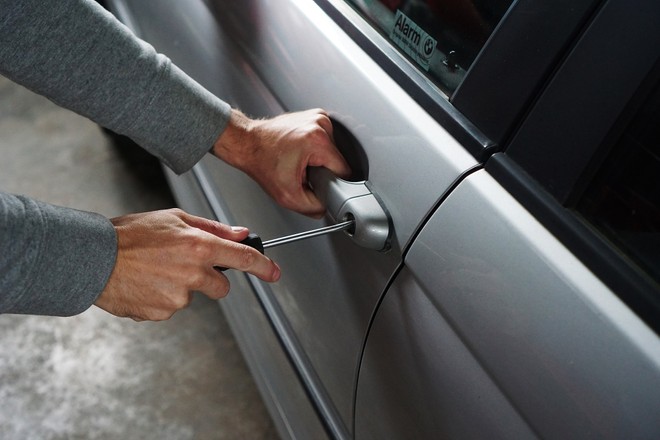 According to new research by Viasat, in Italy, in 2021, 75,471 cars, off-road vehicles and vans were stolen (data from the Traffic Police). This is 6,289 thefts per month, 210 per day and almost 9 every hour. A slightly higher figure (+ 0.63%) compared to the previous year.
The thefts continue be concentrated in the Center South. The research highlights, in fact, that the Campania it is the Italian region where the greatest car thefts are recorded (20,499). Following Lazio (13,050), Puglia (12,850) and Sicily (9,194). Behind these regions there is Lombardy, the first region of Northern Italy (8,024).
THE MOST STOLEN MODELS
Of the more than 75,000 cars stolen, alone just over 28,000 have been found, equal to 37.59% of the total. Of the rest, traces have been lost. Thus, the research points out that when a car is stolen, finding it is very difficult. But what are the most stolen models in Italy?
According to data processed by Viasat, the three most stolen cars in Italy are Panda, 500, Punto and Ypsilon. Cars that are often stolen to commit other crimes or to resell spare parts. It is worth noting that in this "top 4", three models are the best-selling models ever on the Italian market every year.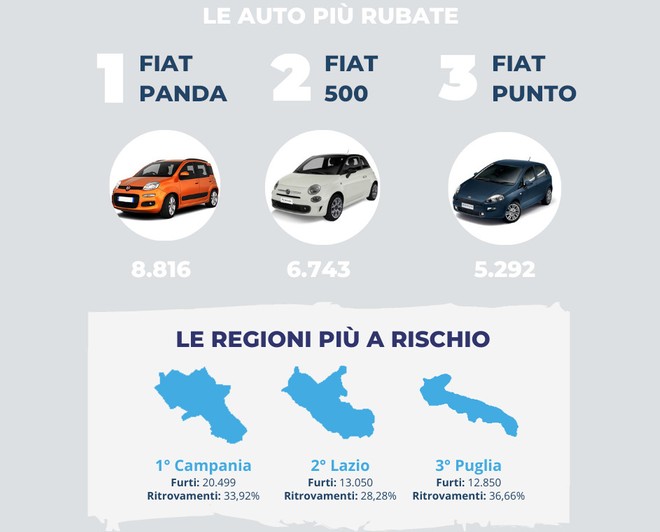 THE top-of-the-range models and SUVsinstead, they mostly disappear, according to the research, on commission. Cars that then take the path of foreign markets. In 2021, 1,273 of these models were stolen and only 34% were found. But where exactly do they go? They often end up in the Middle East, Serbia, Bulgaria and Romania.
Cars that were also taking the road to Russia, at least before the outbreak of the conflict in Ukraine.
Fiat Panda: 8,816 cars stolen
Fiat 500: 6,743 cars stolen
Fiat Punto: 5,292 cars stolen
Lancia Ypsilon: 2,979 cars stolen
Smart Fortwo: 1,389 cars stolen
Volkswagen Golf: 1,381 cars stolen
Renault Clio: 1,284 cars stolen
Ford Fiesta: 1,059 cars stolen
Opel Corsa: 824 cars stolen
Fiat Uno: 559 cars stolen