As promised, Apple has released the new version of iMovie for iOS and iPadOS devices. For those hoping for a turning point that would meet the professionals and the power of the new Cupertino chips, we already know from last month that things would have turned out differently. The additions of iMovie 3.0which is already available for download, are in fact designed especially for an audience that wants to create more complex and articulated content but in an intuitive way, and therefore needs a simple and quick editing tool to use.
The two big news of this update are Magic movie (in English Magic Movie) e Storyboard: but let's see in more detail what it is.
STORYBOARD
Sometimes the hardest thing is to start, to face the emptiness of the page or in this case of the timeline. For this Apple has created Storyboardwhich allows you to choose between 20 different types of videos (cooking tutorials, Q&A, reviews, newsletters, etc.) to immediately start working on your project with a guideline. An undoubtedly useful tool given the turn that, in the wake of TikTok's success, social networks are taking, with more and more users who are interested in developing more structured content.
With Storyboard, therefore, you have a grid in front of you that allows you to easily organize your work, but at the same time you retain a margin of freedom since you can still add, reorder and delete clips as you like, as well as apply different styles to the videos. for titles and transitions, fonts, filters and color palettes.
As for the music tracks, nothing could be easier: they dynamically adapt to the length of the project. Once the work is finished, it will then be possible to share it easily from iMovie via Messages, via Mail or directly on social platforms.
MAGICAL MOVIE
Magic Movie is an option that shares the spirit of Storyboard and helps the user to create content quickly and intuitively. In this case it is a tool designed egr create customized videos starting from a group of photos or images taken from the library to obtain a complete result with a lot of titles, transitions and music in a few taps.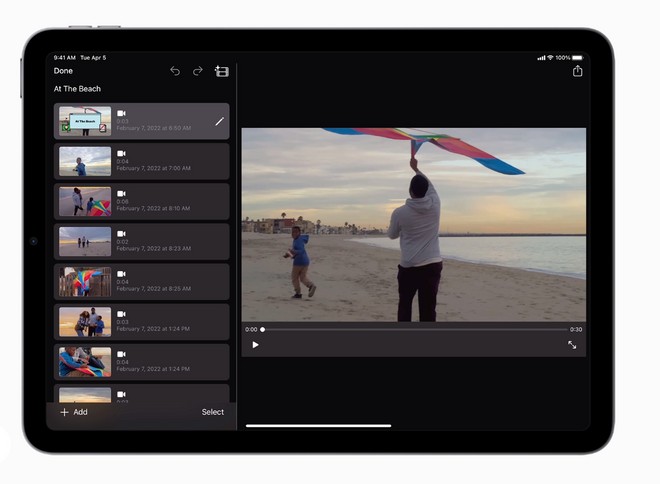 But what's "magical"? Simple: Magic Movie instantly identifies the best parts and creates a project from this selection. Obviously, the user can always intervene and customize the outcome by reordering the clips or deleting them, or by choosing to work further on the editing. Of course it will also be possible to apply styles to change the look of the video. And once the project is finished, even in this case it will be possible to share it from iMovie via Messages, Mail and on social media.
IMOVIE 3.0: OFFICIAL CHANGELOG
Discover, learn and be inspired by two brand new types of video projects: "Magic Movie" and Storyboard.
Create a magical movie to instantly make and share customized videos with titles, transitions and music in just a few taps.
Select a photo and video album and "Magic Movie" will create a curated video using your media files.
Start with a Storyboard project to hone your narrative skills using a template that guides you through the making of the video.
Choose from 20 storyboards for common video projects, such as Cooking, Do It Yourself, "Questions and Answers", "Product Review" and "Book Report".
Personalize and organize your video by adding, rearranging and grouping items in the storyboard with the handy shot list.
Learn about various types of framing and storytelling techniques with shooting advice provided in each type of storyboard.
Record video or snap photos directly to each storyboard placeholder clip, or add media files from your Photos library.
Enhance your Magic Movie or Storyboard videos with 20 dynamic styles including title layouts, fonts, filters, color palettes and music.
Refine your clips further with the editing tools: crop, split and adjust speed.
Apply effects to titles, record a voiceover or adjust the depth effect on clips in Cinema mode * to personalize your videos even more.
Import your "Magic Movie" and Storyboard projects into a timeline in iMovie for Mac or Final Cut Pro ** to take them to the next level.
Save "Magic Movie" and Storyboard videos to your Photos library, send them to friends and family via Messages or Mail or share them with followers on social media.