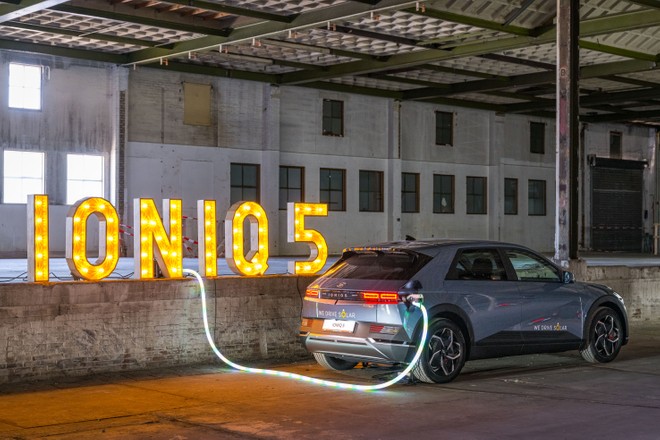 We talk a lot of Vehicle-to-Grid (V2G)the technology that will enable electric cars to re-enter the network the energy contained within their batteries. A solution that will see electric cars contribute, in the future, to stabilize the power grid especially during peak times. For the moment, a series of trials are underway by car manufacturers to test the validity of this solution.
In this regard, a project carried out by Hyundai in collaboration with We Drive Solar in the Dutch city of Utrecht. This is the same city where the Korean manufacturer is also experimenting with a residential car sharing service.
THE EXPERIMENTATION
Specifically, the automaker will supply 25 Hyundai IONIQ 5s equipped with Vehicle-to-Grid technology (in the future they will reach 150). These cars will be used to power the Cartesius district of the Dutch city. Therefore, in the more than 2,500 homes that will be built within the district, the IONIQ 5s can be used not only to stabilize the electricity grid but also to power homes and buildings in case of need (Vehicle-to-Home – V2H and Vehicle-to-Building – V2B).
Furthermore, the cars will also be used within a shared mobility service to transport the residents of the district. The ultimate goal is to make Utrecht the first city with a two-way energy ecosystem. Therefore, Hyundai and We Drive Solar aim to ensure that people have an electric vehicle that, if necessary, can be used both to stabilize the grid at peak times and to power homes.
The Dutch city, however, has been working on the implementation of V2G technology for some time. In fact, more than 1,000 bi-directional charging points have been built in the last three years.
As we said at the beginning, there are several projects related to the experimentation of the Vehicle-to-Grid (V2G). In this regard, we recall those carried out by Honda in Switzerland and by Stellantis in Mirafiori, in Turin.
VIDEO