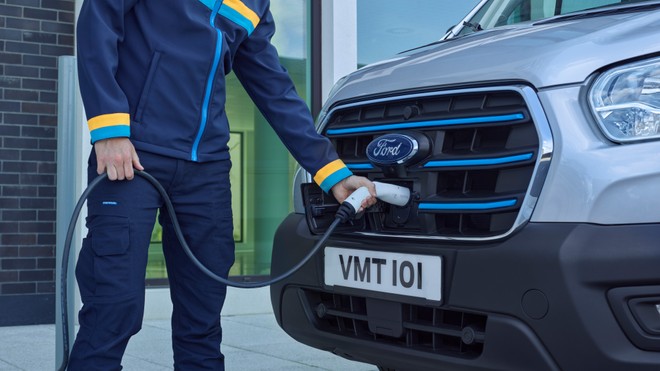 The charging infrastructure and related services play a fundamental role in diffusion of electric mobility. In fact, more and more logistics companies and professionals are aiming decisively towards a sustainable future with a low environmental impact.
To accompany its customers in this phase of energy transition and meet all their needs, Ford has decided to launch the new service Pro Chargingan integrated charging solution that allows the professionals to find the right charging strategy and install dedicated charging infrastructures, thus optimizing the charging process, productivity and vehicle efficiency. The new charging services for professional vehicles are implemented within the Ford Pro Intelligence telematics services.
THE IMPLEMENTATION IN THE FORD ECOSYSTEM
Going into more detail, Ford Pro Charging offers a solution of full recharge made to measure which includes hardware installation and management software that helps optimize the charging process. In addition, simplified billing and administration via Ford Pro Charging software can also support fleet managers should their drivers decide to take their work vehicle home after their shift.
Using the Ford Pro E ‑ Telematics software which communicates all data in real time such as charging speed, charging performance and remaining time, fleet managers can ensure their vehicles are charged and productive.
CHARGING IN THE COMPANY
To help fleet managers, Ford has a team of specialized consultants located in the main European markets who deal with studying the best charging strategy on a case-by-case basis: from installing the charging hardware in the depot to providing assistance and support once the deposit refill is up and running. Once depot charging is active, Ford Pro Charging's intelligent software evaluates the cycle and charge level of each individual vehicle to manage the energy efficiency of the depot and to ensure that all vehicles are productive for the day. Work.
HOME CHARGING
For professionals who decide to take their vehicle home after the work shift, Ford Pro Charging makes available the Ford Connected Wallbox which, installed in the home, allows you to recharge the electrified van and send a report to the centralized system of the fleet manager. In this way, customers can request reimbursement of home charging quickly and easily and the fleet manager can check if the vehicle has been charged and is ready to face a new working day at maximum productivity.
PUBLIC CHARGING
While public infrastructure is not the primary charging method used by professionals to charge their vehicles, Ford Pro puts a available to its customers access to over 300,000 charging points throughout Europe in which it is possible to make automatic payments with centralized billing using a unique top-up card for each van.
To find the nearest or most convenient charging station along the route they need to travel, all they need to do is access the Ford Charge Assist service via Ford's Sync 4 infotainment system. In this way, the drivers of the vehicle can check the availability, the costs, the charging speed before arriving at the selected column.