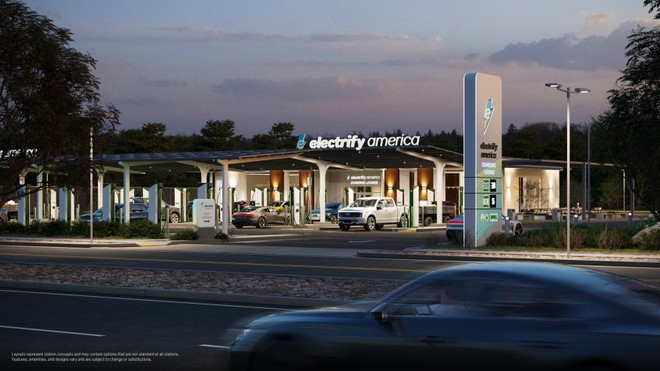 What should modern electric car charging stations be like? Over time we have seen several projects from companies that deal with charging infrastructure that show what we will see in the future. Places where not only to supply battery-powered cars but also to spend time in accommodation facilities to eat or shop. Electrify America too showed his design vision for these stations. The company, in fact, shared a series of images, describing how it intends to structure these charging hubs.
The interesting aspect is that it is not a design vision of stations that will arrive in the distant future. Electrify America has, in fact, explained that it intends to implement its ideas as early as 2022 within a series of new stations.
THE CUSTOMER AT THE CENTER OF EVERYTHING
The company says it is focused on customer needs to design its future new stations. Electrify America intends to show the fruits of its ideas in new stations that will be installed in 2022 and 2023 in Santa Barbara, San Francisco, San Diego, Beverly Hills and New York. Currently, the largest stations built by Electrify America are located in Baker and Santa Clara in California. Giovanni Palazzopresident and CEO of Electrify America, on this project, commented:
Electrify America will reinvent the look and feel of many of our charging stations to meet and exceed the expectations of customers transitioning from an endothermic vehicle to an electric lifestyle. These new designs will help improve the charging experience for our customers, building on the foundation of our ultra-fast and reliable coast-to-coast network.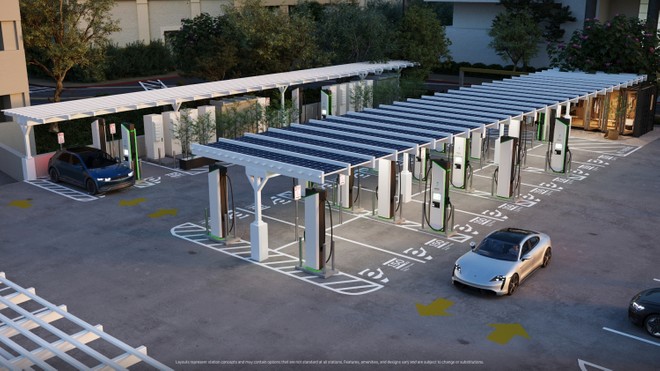 Electrify America charging stations will be able to count on up to 20 ultrafast charging columns. Inside they will also find a place rooms for customers"showcase areas" for electric vehicles e spaces for events. The stations will also be equipped with canopies with photovoltaic panels, security cameras and additional lighting. In addition, some selected stations will be equipped with a charging option via a valet.
In addition to designing the stations of the future, the company said it is also improving its current ones. In fact, it is adding 400-500 solar panel shelters in 100 stations across America. The shelters will be able to offer shelter to cars during charging, while i solar panels they will allow to supply the columns with clean energy (storage systems are used). Furthermore, the company is introducing new columns with powers between 150 and 350 kW.