You know the "blah blah blah"by Greta referring to the performance of the COP26 on the climate, here is trying smartphones in this period can be summarized more or less in the same way. Basically this is why I replied with a big yes to the proposal to test a technological device that was profoundly different from the usual one. RIVER Pro by EcoFlow, technically a "power station"for friends a big portable battery, for me, after having studied it well, a fabulous electronic object.
WHAT IT IS ABOUT
EcoFlow, the company that makes this and other battery-powered devices, defines it as one portable charging stationand in fact this is what it is, a kind of very advanced huge power bankcapable of feeding a bit of everything for a long time.
On the EcoFlow website you can quickly realize that the RIVER Pro is just one of the many power stations proposed, chosen by myself because of the whole group it seemed to me a good compromise between size, weight (portability) and battery capacity in terms of storage and power. However, everything depends on the user's needs, each product has its own specific characteristics, for example the RIVER mini stops at 210 Wh and weighs just 2.85 kg, while the DELTA Pro has a capacity of 3600 Whweighs 45 Kg (it has wheels) and can be combined with several units to reach a capacity of 25 KWh, to power a house entirely.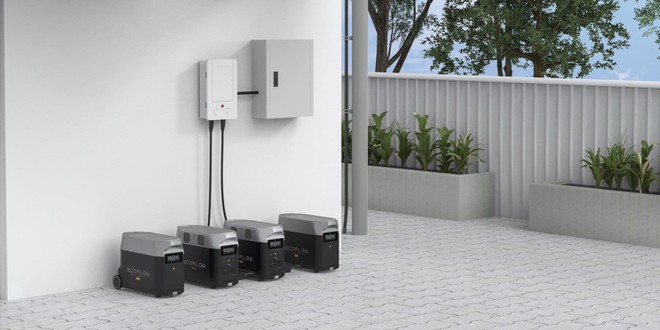 Batteries of this kind can be used in different contexts, and depending on the technical characteristics they can be useful for powering increasingly complex devices and for shorter or longer times. It essentially ranges from "home backup", that is a reserve of energy available in the house to have a "plan B" in the event of a power failure, to "off-grid life" that is all possible applications outside the home disconnected from the grid , from adventures in the middle of nowhere, to the more democratic camping, or given the period, for one memorable Easter Monday barbecue with music, lights and fridge to keep beers cool.
EcoFlow power stations have various charging and dispensing possibilities, therefore, they adapt to many scenarios of use. In the case of our RIVER Pro the classic Shuko EU sockets are flanked by full size USB ports, Type-C, connectors for solar panels or for charging from the car, standard jack connectors and more, the power reaches a maximum of 1800 Watt (eighteen hundred!) And input charging up to 600 Watt.
PRACTICAL EXAMPLES OF OPERATION
Speaking of Watts, Volts and Amps is not the simplest way, albeit necessary, to describe the operation of an EcoFlow power station, so browsing on the page dedicated to the RIVER Proyou can find a clear infographic that suggests practical examples of using the battery module.
The capacity of this battery allows you to keep a 10 Watt light bulb on for 22 hours in alternating currenta 150 Watt refrigerator for 5 or 6 hours, a TV about ten hoursa 65 Watt projector for almost 8 hours, it is also possible to recharge a smartphone more than 50 times, a Macbook Air 13 times, a Switch 40 times, a DJI drone a dozen times depending on the model, a GoPro 83 times.
In addition to the battery capacity, the cue, the power supplied, plays a significant role, which allows for example to connect household appliances or work tools that require up to 1800 Watts of energy, for example an electric fryer, a stove, or a drill or a small disc wheel, why not various studio spotlights to illuminate a scene, a control monitor or a security camera.
CAN IT BE USED AS A UPS?
In theory, yes, by connecting a device to the power station and at the same time powering the battery through a 220V socket, the lithium cells are automatically bypassed, when a power failure occurs then it will take 30 milliseconds to activate delivery from the battery.
It all depends on the sensitivity of the instrument, sometimes 30 milliseconds can be fatal, in many other cases the residual energy in the transformer is enough to buffer that short moment without energy.
THE RECHARGE
There is nothing trivial about these power stations, recharging for example is one of the reasons that convinced me fully. Imagine if such a battery had recharged in 6-7 hours or even more, as far as I'm concerned it would have been a big disappointment.
Instead thanks to a 600 Watt input, connecting the RIVER Pro to the mains in 1 hour and a half it is practically charged! But that's not all because thanks to the special adapters supplied in the package, it is possible to fully recharge through the 12 Volt socket of the car in 8 hours, but above all various solar panels can be connected, even in series, with an input of up to 200 Watts, to charge in about 4 hours from 0 to 100%.
Imagine taking her with you on a campsite, during the day, even without full sun, she recharges and in the evening she is ready to assist you in the most varied needs. The only catch is that you have to equip yourself with solar panels, those of EcoFlow presumably they are fine, but they are certainly not cheap.
TECHNICAL DETAILS
Having clarified the "how and why" let's go a little better into the technical aspect of the EcoFlow RIVER Pro power station. The dimensions are roughly those of a car battery: 29.9x18x23.5 cm, the weight is 7.6 kg, on the top there is a large handle that facilitates transport.
The River Pro is big but not huge, the weight requires transport for short distances on foot but it is not impossible to think of carrying it around in remote areas, no problem instead in a car, it enters everywhere and could also find a place behind the front seats, if you really do not want to occupy the trunk. In a motorhome there will be no problem storing it in one of the material storage compartments and finally it can slip into the bottom of a single or double camping tent without taking up living space.
The operating temperature is between -20 and 45 ° Ca rather wide and important range considering some scenarios, but pay attention to the operating temperature during the charging phase, which must be between -3 and 48 ° C. The chemistry of the cells is lithium-ion, the total capacity should remain above 80% of that declared up to 800 charge-discharge cycles. Also interesting is the declared "shelf-life" data, that is the period of time within which the battery does not lose capacity while remaining inactive, well 1 year.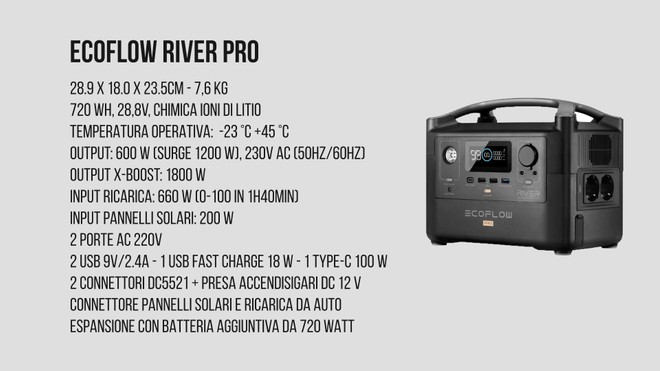 On the front there is a large color LED display that indicates various information: state of charge, absorption, delivery, estimated time of complete discharge, estimated time of full recharge and any warning lights for operating errors. Just below they find their place 2 x 12 Watt USB A each (5V / 2,4A), an 18 Watt USB A (5V / 2,4A, 9V / 2A, 12V / 1,5A), a 100 Watt Type-C port.
Also on the front there are also a Flash LED adjustable on 2 intensities and with SOS flashing function, the button to activate the internet network functions, there are also two DC5521 jack connectors 13.6Vdc / 3A and a Car Outlet socket (the one for the cigarette lighter to be clear).
On one side there is a flap that hides the port for charging with solar panels or with a special adapter to be connected to the 12V socket of the car, an overload protection switch, the three-phase port for charging the battery and a port for possible connection with an earth cable.
On the opposite side we find 2 AC outputs from 600 Watt to 220V, which can be pushed to 1200 Watt in X boost mode (decreasing the voltage) and a port for the expansion of the RIVER Pro with an additional unit to double the capacity.
In the package you will find a 1.5m cable for connection to solar panels, 1 1.5m cable for charging from the mains, 1 1.5m cable for charging in the car.
THE TECHNICAL SECRET
Behind the numbers there is a secret and just loosen four screws and lift the battery cover to find out, the design of the whole system is carried out with great care, it is understood that the engineering has gone through tests and refinements. There is not a single control board but 4 separate elements with most of the components not soldered and possibly replaceable.
I didn't trust myself to take the whole top apart to get to the cells, but I can tell you that each component is well spaced, there is a dissipation fan that creates a flow of air through two huge heatsinks. It may not be the sexiest item in the world, but the RIVER Pro is also beautiful to look at inside, and what interests us most, it is made to last and to be safe.
THE MANAGEMENT APP
A smart aspect could not be missing in this power station, the RIVER Pro can in fact be connected to a WiFi network and be controlled through an application made in a workmanlike manner.
As soon as I opened it I thought "this is the Tesla of batteries", ok, I admit that I fell in love with this product, but objectively the app is well-finished both in terms of graphics and functionality.
Above is a virtual representation of the battery with charge levels and temperature control. Under a box it shows the current flow in and out with precise data on absorption and voltage, you can then activate the X-Boost function to reach 1800 Watts of power, turn on and off the LED flashlight and the SOS function, activate the DC 12V sockets and the various USB ports.
The most interesting functions, however, are in the additional settings, we can in fact limit the charging speed, set a maximum charge level, adjust the voltage selection for the DC sockets, activate or deactivate the acoustic signals and update the firmware (a couple of updates).
HOW MUCH DOES IT COST?
It's expensive, 749 Euros (in america 649 $), at the same capacity it is a higher price than most competitors (which however are not many) but it must be considered that the specifications are clearly above averageboth in the relationship between size and capacity but above all as regards the powers in absorption and delivery, with a very fast recharge and the possibility of powering large electronic devices, all without sacrificing safety.
RIVER Pro is a good compromise between the various parameters, but I also find the RIVER Max which has a modular design for a minimum capacity of 288 Wh and a maximum of 576 Wh, you can only use the main module in some contexts and attach the expansion only when necessary, this costs 599 Euros.
Solar panels remain a highly recommended solution for off-grid scenarios, they cost 399 Euros in the 160 Watt version, which is well balanced between efficiency and size, but the cost is easily amortized if, for example, you manage to give up the electrical connection in the campsite. .
VIDEO