In addition to the renewed range of Latitude notebooks, now thinner, smarter and more powerful, and those of the Precision range, updated with Intel Core 12th gen processors, Dell has also announced many new peripherals dedicated to professionals and creatives.
MONITOR U3223QE AND U2723QE
The new ones Dell UltraSharp 32 and 27 (U3223QE and U2723QE) are the world's first 4K (3840 x 2160 @ 60Hz) monitors with IPS Black technology which offers 2,000: 1 contrast, deeper blacks, ultra-thin edges and wide viewing angles (178 ° / 178 °) that enhance the experience of use in dual configuration. The panels of these monitors are capable of displaying 1.07 billion colors and deliver wide range of color coverage: 100% sRGB, 100% Rec. 709, 98% DCI-P3 and VESA certified DisplayHDR 400. Response times are 5ms in fast mode (gray to gray) and 8ms in normal mode.

Also present is the ComfortView Plus function, which offers greater visual comfort, multitasking functions and a wide range of connection ports: USB-C (power supply up to 90 W), RJ45 (wired Ethernet), 4 USB-A downstream ports ( USB 3.2 Gen 2, 10 Gbps), DP 1.4 with DSC support (HDCP 2.2) and front quick access ports.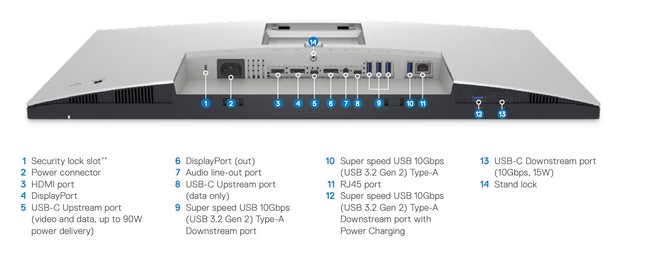 Furthermore, for an optimal view, the monitors can be adjusted in height (150 mm max), inclination and rotation. The PIP function allows you to view the content in an internal window from another PC; the PBB function, on the other hand, allows you to show content from two different PC sources side by side on the screen, similar to a dual monitor setup.
MONITOR U3023E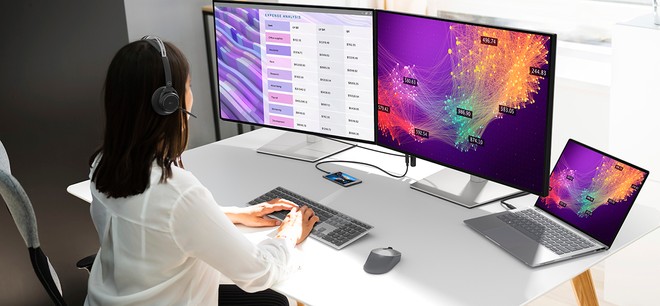 To the Dell UltraSharp 32 and 27 (U3223QE and U2723QE) is also accompanied by the Dell UltraSharp 30 USB-C Hub U3023E, a 30-inch monitor with WQXGA resolution (2560×1660) in 16:10 ratio, ComfortView Plus function, for greater visual comfort, a contrast ratio of 1000: 1 and a typical brightness of 350 cd / m2. Response times are 5ms in fast mode (gray to gray) and 8ms in normal mode.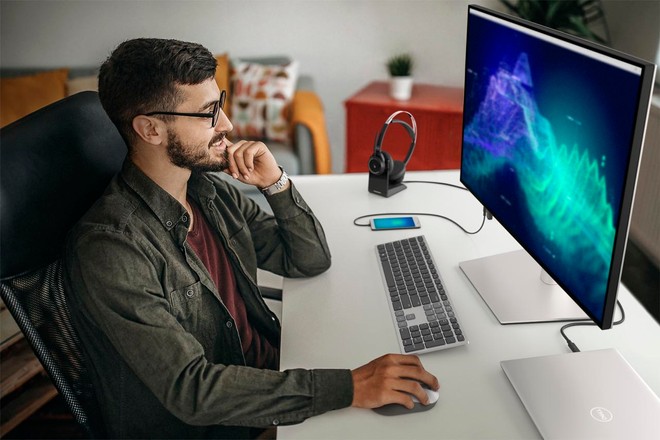 This monitor also boasts a wide range of ports: one DP 1.4 (HDCP 1.4), one HDMI 1.4 (HDCP 1.4), one USB-C with DSC support (DP 1.4) Power Delivery up to 90W, one USB-C (USB 3.2 Gen2, 10Gbps Upstream) 3 USB-A ports (USB 3.2 Gen 2 10Gbps), one USB-A (USB 3.2 Gen 2 10Gbps) with BC 1.2, one USB C (USB 3.2 Gen 2, 10Gbps, charging up to 15W), 3.5mm audio jack and one RJ45.
The panel is capable of displaying 1.07 billion colors over a wide spectrum with 95% DCI-P3 coverage and 100% sRGB. Response times are 5ms in fast mode (gray to gray) and 8ms in normal mode. There is no shortage of PIP and PBP, height, tilt and rotation adjustment, OSD settings synchronized between connected monitors and KVM function (keyboard, video and mouse) to control PCs with a single mouse and a single keyboard.
DOCK AND SPEAKER
Not only monitors but also other peripherals useful for expanding the ecosystem and improving productivity.
Dual Charge Dock HD22Q is the first Dell docking station that, in addition to being a Qi wireless charging base up to 12W, for both smartphones and headsets, integrates many connection ports and PD charging up to 90W via ExpressCharge: 4 USB-A ports (up to at 4.5W), 1 USB-C port (up to 15W), one DisplayPort 1.4 and one HDMI 2.13 port with support for 4K HDR 144Hz monitors.
Dell Thunderbolt Dock WD22TB4, improved and updated, has a design with interchangeable modules, for compatibility with all laptops, and offers fast charging via Thunderbolt 4 and is ideal for connecting multiple 4K displays, devices and peripherals. The dock integrates two DP 1.4 ports, one HDMI 2.0, one multifunction USB-C (DisplayPort 1.4), two USB-A 3.2 Gen 1 ports, one Gigabit Ethernet in addition to two USB-C Thunderbolt 4 ports.
The new Dell Universal Dock UD22Instead, it is better suited for shared workspaces and offers 4 USB-A ports, 2 USB-C ports and 4 video ports as well as 96W power delivery. The dock supports up to four 4K displays simultaneously.
The new Dell SP3022 speakerphone and the Dell Slim Conferencing SB522A Soundbar they are Microsoft Teams certified and have artificial intelligence-based noise cancellation that can reduce background noise while preserving the clarity of the human voice.
The speakerphone SP3022 It is equipped with single and omnidirectional microphones, an output power of 2 x 1.6W, a frequency response of 120Hz-7KHz in conference mode and 90Hz-20KHz in music mode. There SB522A soundbar it features USB-A connectivity, an output power of 4.5W and a frequency response of 180Hz-20KHz. The stereo speakers are 35mm x 16mm.
PREMIER RECHARGEABLE ACTIVE PEN PN7522W
Dell finally launched Premier Rechargeable Active Pen PN7522W, the world's first active pen with Tile position detection that can be located via Bluetooth 5.0. The pen allows you to draw, write and create with precision, thanks to its 4096 pressure levels, and offers up to 40 days of autonomy on a single charge thanks to the integrated 45mah battery that recharges to 80% in 20 minutes and the 100% in 50 minutes.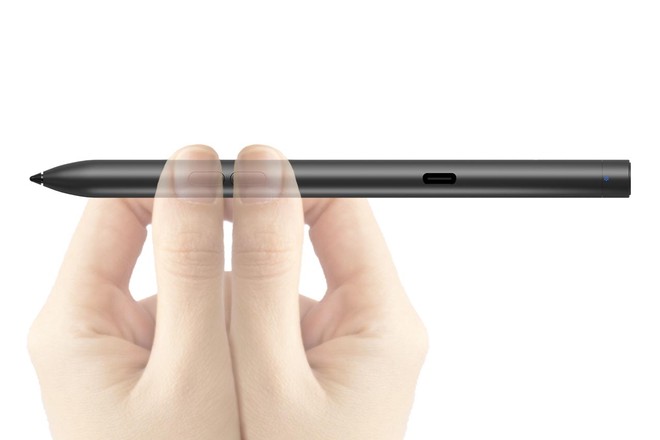 The pen has both the top and i fret two programmable side, an LED that indicates charge and connection status and comes with two spare tips. There is also support for MS Office (Word, Excel, PPT), Photoshop, Autodesk SketchBook, OneNote, Docusign, AutoCAD, MS Whiteboard, Zoom, Teams. The dimensions are 155mm x 9.8mm and a weight of 14.2 grams.
AVAILABILITY AND PRICES (IN DOLLARS)
Dual Charge Dock (HD22Q)

Availability: May 12, 2022
Price: $ 368.99

Dell Thunderbolt Dock (WD22TB4)

Availability: Q2
Price: $ 469.99

Dell Universal Dock (UD22)

Availability: May 12, 2022
Price: $ 459.99

Dell Premier Rechargeable Active Pen (PN7522W)

Availability: March 31, 2022
Price: $ 109.99

Dell Speakerphone (SP3022)

Availability: immediate
Price: $ 99.99

Dell Slim Conferencing Soundbar (SB522A)

Availability: immediate
Price: $ 79.99

MONITOR Dell UltraSharp 32 & 27 4K USB-C Hub Monitor (U2723QE & U3223QE)
Availability: immediate

Prices:

U3222QE: $ 1,149.99
U2723QE: $ 724.99

Dell UltraSharp 30 USB-C Hub Monitor (U3023E)

Availability: immediate
Price: $ 1,049.99