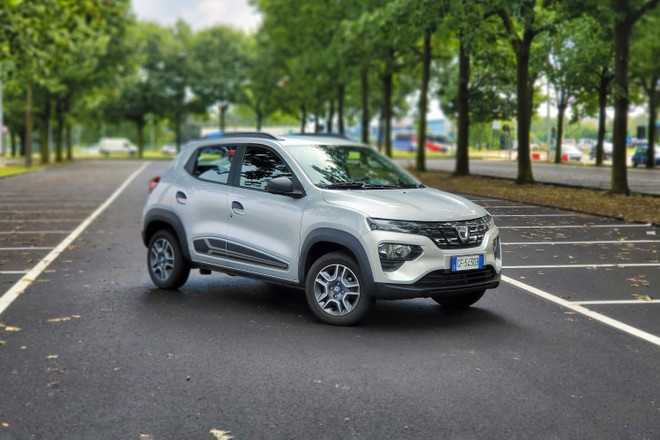 2022 it did not start well for the Italian auto market. As we have seen, in January there was a drop of 19.7% compared to the same month of 2021. A sign, therefore, certainly not encouraging for a sector that is experiencing a very complex period between the consequences of the pandemic and the problem of the supply of semiconductors. As UNRAE pointed out, it is starting to make itself felt also the lack of the Ecobonus. Although the segments of electric cars and plug-in models still grew compared to January 2021, there was a noticeable decline compared to December 2021.
However, it is worth noting that some of these models were still ordered when the incentives were in place. So, to understand better if the absence of the Ecobonus will penalize these segments will take some more time. However, there is a first sign. Hybrid models, on the other hand, continue to do well. What were the best-selling cars in January 2022 in these market segments in Italy?
TOP 10 ELECTRIC JANUARY 2022
In first place we find the Dacia Spring with 656 units registered. It is not the first time that this model has won the first position of this particular ranking. Behind it we find the electric Fiat 500 with 548 units. Third step of the podium for the electric Renault Twingo. It is worth noting the eighth position of the Volkswagen ID.3 and the tenth of the Ford Mustang Mach-E.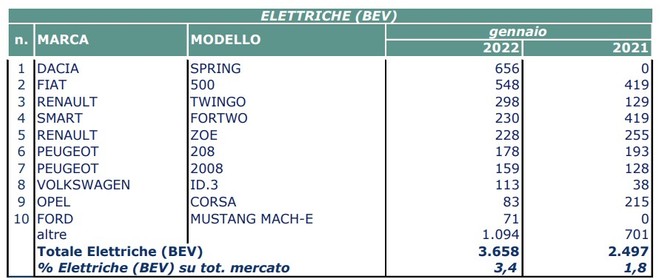 And the Tesla? After the American company pushed to deliver the highest possible number of cars in the last period of 2021, in January the Model 3 did not make it into the top 10. Overall, in January 2022 they were 3,658 electric cars (BEVs) registered in Italy.
TOP 10 HYBRID JANUARY 2022
Remember, as always, that the ranking of hybrids also includes the Mild Hybrid models. We always find first the Fiat Panda with 8,268 registrations which clearly stands out from all the other cars. Behind him comes the Toyota Yaris Cross with 3,243 units registered. The Ford Puma closes third. Fourth was the Lancia Ypsilon and sixth was the Fiat 500. Overall, 38,016 HEV hybrids were registered in January 2022.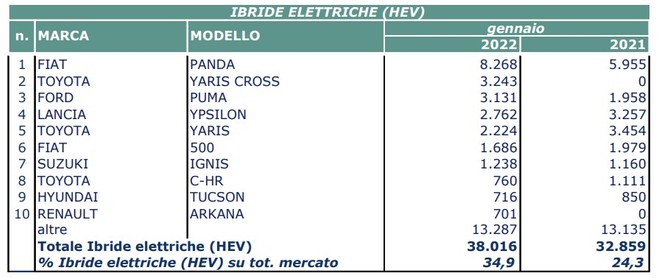 Coming to the Plug-ins, in the first and second place we find two Jeeps, the Compass and the Renegade. With 1,116 units registered, the Compass clearly stands out from the Renegade with 527 registrations. Third step of the podium for the BMW X1. To report the seventh place for the LYNK & CO 01 with 180 units. Overall, 5,461 PHEV Plug-ins were registered in Italy.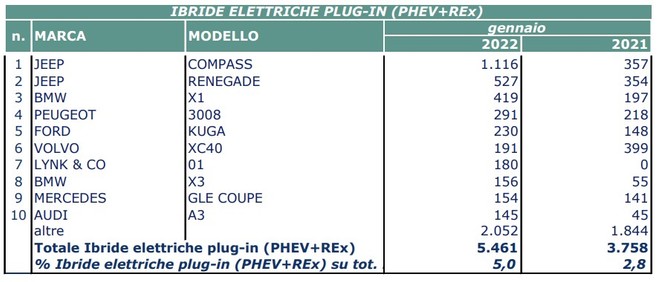 At this point it will be very important to see how February 2022 will go to understand if the market will show any signs of recovery or not.
[Fonte dati: UNRAE]