The Italians certainly have an excellent relationship with online entertainment. According to what is highlighted in the latest report made by Comscorewith data relating to January 2022, 96.2% of the Italian digital population (equal to approximately 39 million users) had access to websites and apps for mobile devices that provide services, news and information relating to TV, movies, music and music platforms.
This data places Italy in fourth place among the markets with the highest levels of online entertainment penetration, immediately after Brazil (97.9%), Spain (97%) and the United States (96.3%). Comparison with other content categories also places entertainment among the main online activities to which Italians dedicate their time.
The data also show that one in five minutes spent online by Italians is devoted to entertainment-related content (20.4% of the total time spent), second only to Social Networks (22.9%). Since January 2019, the average time spent on Entertainment's sites and mobile apps has grown by 44%, consolidating the accelerations recorded during the health emergency in the peaks of use. Video entertainment has certainly also been a proponent of the growth of the smart home market.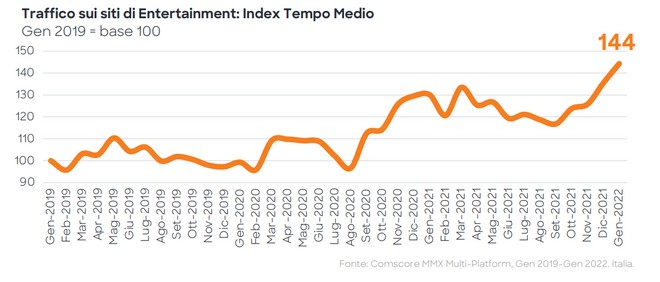 The most widespread among the forms of digital entertainment for Italians is certainly represented by online videos, thank you mainly to YouTube (95%) and platforms such as Netflix (24%), Mediaset Infinity (29%), RaiPlay (21%) and Amazon Prime Video. About one in two Italians, connected to the network, watched at least one video or music content on YouTube in January 2022.
Among other forms of entertainment, music plays a very important role, with Spotify reaching a penetration level of 31% and 27 minutes per day of average use per visitor.

From a demographic point of viewWhile it is true that the penetration of entertainment content reaches almost 100% of all age groups, visitors in the 18-24 age group spend over an hour and twenty a day on sites and mobile apps entertainment, more than three times the amount recorded for the over 45 age group.