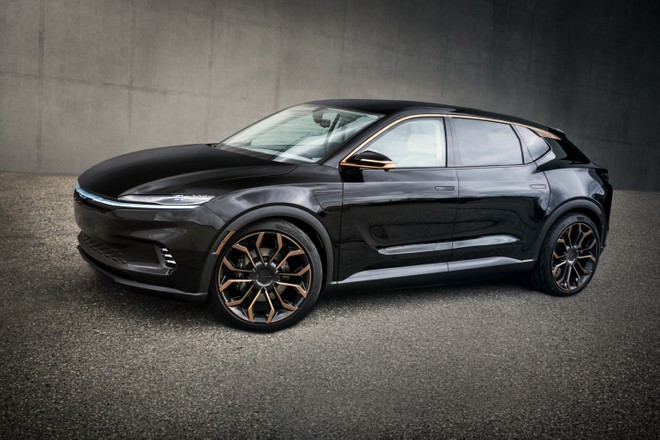 Chrysler aims to offer only battery-powered cars by 2028: an ambitious plan especially considering that today it does not offer any electric cars. The first model, in fact, will only arrive in 2025. At CES 2022 in Las Vegas, the Chrysler Airflow concept car developed to show some elements of the design that we will see on the first electric car of the American brand had made its debut.
At the New York Motor Show, Chrysler again brought its concept car in a slightly revised guise, which has been called Airflow Graphite.
SMALL DESIGN TOUCHES
The new concept car features some small tweaks to the design compared to what was seen in January 2022. The front features a LED bar and a grid with a different design. In addition, the new Galaxy Black body color arrives with details in Cyprus Copper that allow the panoramic roof to stand out. The car adopts 22-inch wheels. Apparently, the American brand is developing a new design language that will lead to cars with a very different look from that of its current models, with softer shapes and greater attention to aerodynamics.
The interiors are essential and are characterized by the presence of a lot of technology. In fact, we find 4 screens in the front: the one for the instrumentation, the one for the infotainment, the one for managing the air conditioning and the one for the front passenger.
It should be noted that rear passengers will be able to have dedicated screens through which to manage some of the car's entertainment-related functions. Full support for OTA updates. In addition, the concept features Level 3 driving assistance. Airflow Graphite can also count on STLA Brain and STLA SmartCockpit platforms to offer advanced digital services.
Speaking of the powertrain, the prototype has two electric motors and therefore four-wheel drive. The manufacturer claims that each unit is capable of delivering 150 kW. Although no precise technical details have been provided, the battery will have a range of up to 400 miles, which is around 643 km.