They return to to drop after 18 months the electricity and gas bills of Italians. The announcement is official as it is the same Regulatory Authority for Energy, Networks and the Environment (ARERA) to communicate the reduction. We speak of a drop of 10.2% for electricity and 10% for gas starting from the second quarter of this year.
Despite new records of the rise in wholesale prices recorded after the Russian invasion of Ukraine, the data on price trends, even in a context of great uncertainty, lead to a drop in protection prices for electricity and natural gas, the first after 6 quarters (7 if we consider gas).
ARERA itself intervened to block the growth that has now become unsustainable for many Italian families by modifying a tariff component to offset the costs of marketing gas. From the next quarter, the cancellation of general system charges and the reduction of VAT on gas to 5%, as well as the strengthening of the Electricity and gas social bonus which is extended to the second quarter and is intended for a greater number of families in difficulty (with the Ukraine bis Decree the minimum ISEE to access passes from 8,265 euros to 12,000 euros or 20,000 euros if you are in a family with more than 3 children) .
Just apply for the ISEE: the bonus will be directly credited to your bill.
WHAT WE WILL FIND IN THE BILL
Prices fall for the first time in 18 months, but the effects of the record hikes are still being seen. Compared to the previous sliding year*:
electricity: + 83%with an expenditure for a typical family of 948 euros
gas: + 71%with an expenditure of 1,652 euros per typical family
* quarter subject to the update + 3 previous quarters, in our case therefore: Q2 2022 + Q1 2022 + Q4 2021 + Q3 2021
HOW MUCH ELECTRICITY AND GAS WILL COST IN Q2 2022
So here's how much we'll pay for light and gas during the second quarter of the year:
electricity: 41.34 euro cents per kilowatt hourtaxes included

75%: 31.02 euro cents for energy procurement costs (-12.6% compared to Q1)
4.7%: 1.91 euro cents for retail marketing (+ 11.7%)
9.3%: 3.84 euro cents for transport and meter management (inv.)
0%: 0 euro cents for expenses for system charges
11%: 4.57 euro cents for VAT and excise duties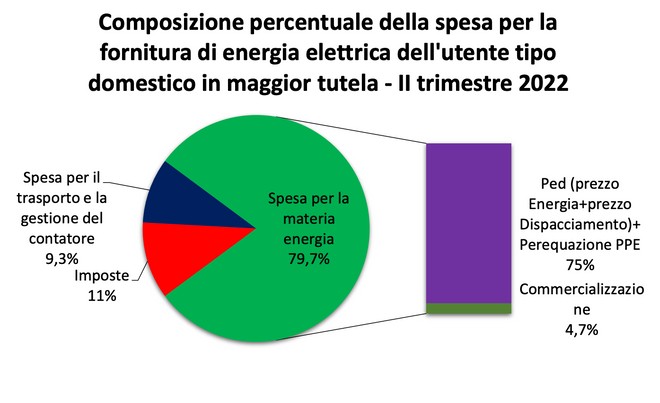 gas: 123.62 euro cents per m3taxes included

72.3%: 89.39 euro cents for natural gas supply (-2.2% compared to Q1 2022)
4.53%: 5.60 euro cents for retail sale (+ 6.2%)
12.61%: 15.59 euro cents for transport and meter management (+ 0.7%)
-10.16 euro cents for general system charges (-8.2%)
18.77%: 23.20 euro cents for taxes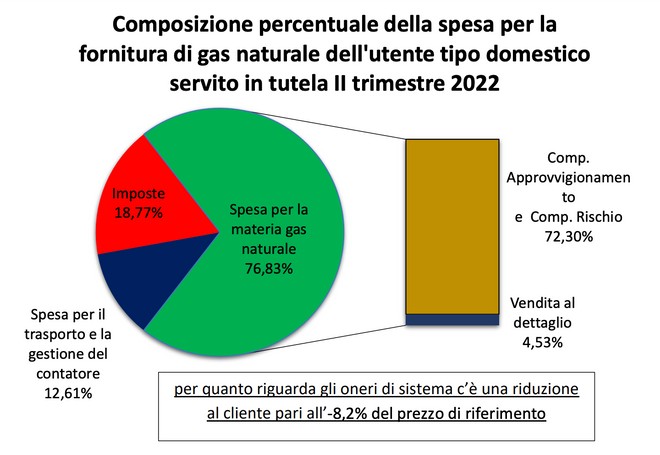 WHY IT FALLS
The raw material component brings down the price of energy, with general system charges still at 0:
-10.2%of which:

-8.9% PE energy
-1.6% PD dispatching
-0.2% PPE of equalization
+ 0.5% PCV + DIspBT
The same applies to gas, i.e. the price falls as the raw material component decreases. General charges are almost 0, VAT remains at 5%:
-10%of which:

-1.3% final price of the typical family
-8.8% extraordinary intervention to reduce the UG2 component
+ 0.1% transport tariff component
Credits opening image: Pixabay