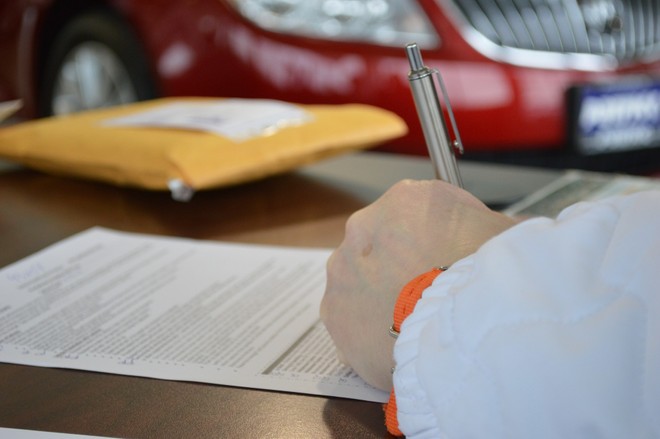 The difficulties for the European car market. According to data from ACEA (European Association of Car Manufacturers), in the month of March 2022 there have been, at the European Union level, 844,187 registrationsequal to one decrease of 20.5% compared to the same period last year (1,062,511). According to the association, production problems due to the crisis in the supply of components which have been worsened by the outbreak of the terrible conflict in Ukraine contribute to this negative figure.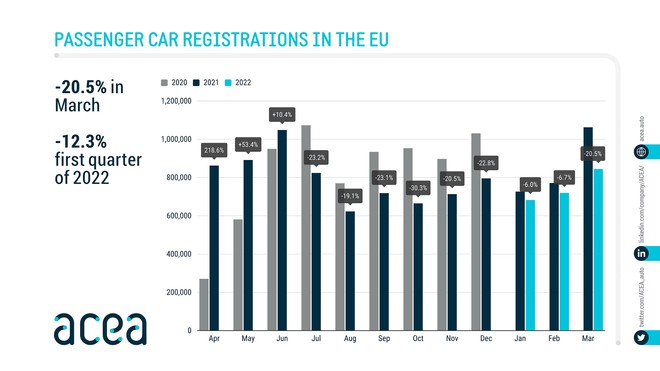 If desired, it also includes the EFTA countries and the United Kingdom, in the month of March 2022 1,127,077 cars were registered, equal to a decrease of 18.8% compared to March 2021 (1,387,985). Wanting to make a comparison also with the period before the pandemic, in the month of April 2019, 1,143,046 cars were registered in the European Union. Also considering the EFTA countries and the United Kingdom, the number of registrations rises to 1,345,181.
Returning to the data of 2022, most of the countries of the European Union recorded double-digit declines, including the four key markets: Spain (-30.2%), Italy (-29.7%), France (-19 , 5%) and Germany (-17.5%). Going to look at the numbers for the first quarter of 2022registrations of new cars in the European Union decreased by 12.3% compared to the same period of the previous year, with a total of 2,245,976 new cars registered.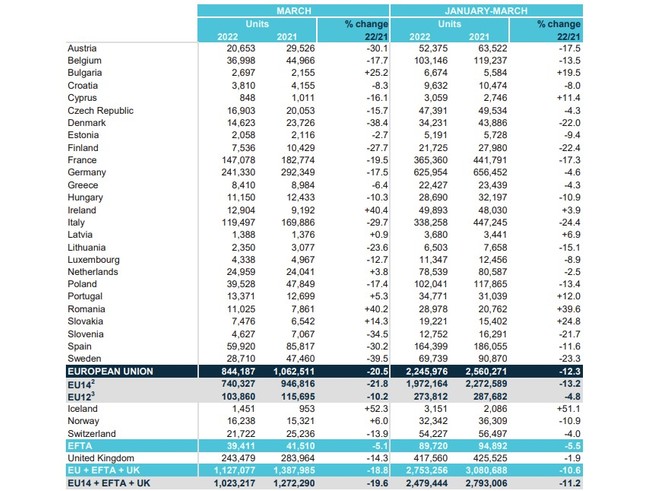 All four main EU markets recorded declines in the first quarter: Italy (-24.4%), France (-17.3%), Spain (-11.6%) and Germany (-4.6%) ). And going to look at the results of the Automotive groups (again at EU level), the data only mostly extremely negative. For example, the Volkswagen Group closed with a decline of 24.3%. Worse is Stellantis with a drop of 32.9%. The Renault group "contains losses" with a decrease of 14.1%. Small positive sign, + 0.5%, on the other hand, for the Hyundai Group.
A difficult situation, therefore, that could last a long time. The supply chain problem is still far from being solved. In fact, car manufacturers are still forced to review production within their factories. Thus, this means that the shortage of new cars available continues. To all this are added the effects of economic crisis.
[Fonte dati: ACEA]