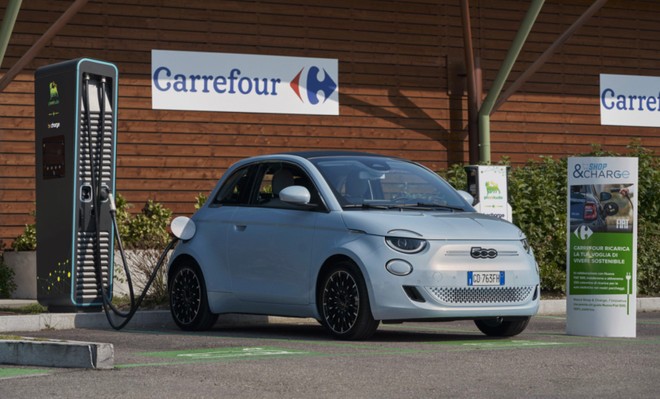 Stellantis, Carrefour Italia and Be Charge announced the results of the program announced at the end of 2020 and went live in the following March: the goal was to create a charging network for electric cars at the Carrefour Italia points of sale consisting of 250 columns (both Quick 22 kW and Fast from 75 kW). In this way, the owners of the electric cars were able to restore the battery charge while they were busy shopping. To make the use of the Be Charge columns at Carrefours throughout Italy more stimulating, discounted rates and exclusive benefits have been provided for owners of the New Fiat 500. Now it's time to draw a first budget.
70,000 kWh OF ENERGY IN OVER 5,000 CHARGING SESSIONS
Since the launch of the program:
have been made over 5,000 charging sessions from over 1,500 electric car owners;
the charging sessions allowed for further charging 70,000 kWh of energyequivalent to almost 60 tons of CO2 saved *;
a quarter of the refills the Be Charge columns installed at the Carrefour points of sale were carried out by customers in possession of a Stellantis group car;
to today it is possible to have them available 112 Be Charge charging points installed in the car park of the Italian Carrefour sales points.
With these first milestones achieved, Shop & Charge proves to be an important project that allows you to take advantage of the time needed to recharge the batteries by carrying out daily activities such as shopping, thus facilitating the transition to electric mobility.
THE NEXT STEPS
As part of the project, Nuova 500 customers had a preferential lane thanks to the exclusive discounts and advantages: namely the possibility of accumulating Carrefour loyalty points obtained with the purchase of Carrefour brand organic products more quickly and making the recharge with discounts dedicated to your car. In the future, other models and electrified units of the Stellantis group could benefit from the same treatment.
The the project also continues to evolve rapidly: just think that in eight months we have gone from 60 charging stations operational in July 2021 to the aforementioned 112 charging points. Almost half of the target announced at the end of 2020.
* Estimation made by Stellantis with respect to the 70,000 kWh of energy supplied by the columns of the Shop & Charge network, considering the approved consumption of the New 500 electric on the mixed WLTP cycle (13 kWh / 100 km) and the CO2 emissions on the mixed cycle of the 500 Hybrid (105 g / km).