During the last day, the Ax-1 mission officially started, the first entirely composed of astronauts and private vehicles to be sent to the International Space Station.
After a successful take-off after 5pm yesterday, the crew are now aboard SpaceX's Crew Dragon spacecraft and have officially begun a 10-day journey that will include eight days aboard the International Space Station. Ax-1's Crew Dragon capsule will dock at the orbiting laboratory at around 1.45pm today 9 April. The live streaming will start at 11.30 and can be followed by the link below.
Ax-1 marked the fifth flight for the first stage of this Falcon 9, which also coincided with its fifth landing approximately 9 minutes after takeoff on SpaceX's drone ship, A Shortfall of Gravitas, which was waiting in the Atlantic Ocean.
During their stay, the four team members will conduct 25 scientific experiments in about 100 hours of work, but it will be only the first of four trips that Axiom Space intends to conduct in collaboration with SpaceX. It is known that Axiom Space's long-term goal is to build a fleet of commercial space stations, starting with Axiom Station. The company plans to connect the first Axiom station module to the ISS as early as 2024, before breaking away and building a platform capable of autonomous operation. These first missions will aim to help Axiom establish useful protocols and procedures for conducting future human spaceflight missions on its platform when it is ready.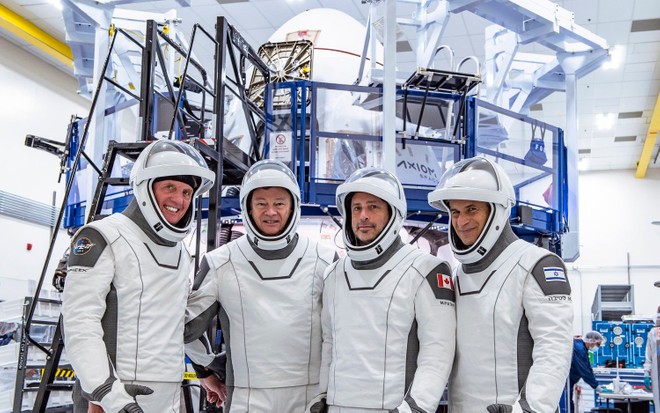 On board the Ax-1 flight there are 3 paying customers and a real astronaut: we find the American Larry Connor, founder and managing partner of the real estate investment company The Connor Group; Canadian Mark Pathy, CEO of the investment and financing firm MAVRIK, and Eytan Stibbe, former Israeli Air Force pilot and founder of the investment fund Vital Capital. Their commander is Michael López-Alegría, a veteran NASA astronaut and now chief astronaut for Axiom. The company announced the crew in January 2021 and subsequently its members carried out a training program of approximately 1,000 hours.
As mentioned above it will not be a "tourist" mission and the crew has a number of planned tasks including conducting 25 different science experiments. For example, a "brain headset" created by the Israeli startup Brain.Space, which Stibbe is bringing with him, will be studied. The experiment aims to observe how the brain behaves in space and is one of the many investigations that Stibbe is carrying out on behalf of the Ramon Foundation. Scientific experiments will also be carried out on other issues, including aging, stem cells, heart health and more.
This is the latest update streamed by SpaceX pco after 9am today. The crew are in excellent health and the journey to the ISS is apparently proceeding well.
LIVE STREAMING ISS LOCKING