Samantha Cristoforetti is ready to face a new mission in space and once again she will be part of the new crew arriving on the International Space Station. But she won't face him as a commander, as originally planned. In fact, once again, she will offer her skills as a flight engineer.
We have already anticipated some details on the Crew-4 mission, whose departure was initially scheduled for Saturday 23 April at 11:26 according to our time zone, and which in these last hours has been postponed by a few days. The candidate date is now that of April 26but you will find more details a little further down, in the part dedicated to updates.
Before following the developments of the mission we want to spend a few more words on the life and career of this professional, a true Italian pride of the aerospace segment together with other important figures such as Luca Parmitano and Paolo Nespoli, just to name a few of the most local astronauts. recent.
For AstroSamantha it will be the first time aboard a Crew Dragon spacecraft and the times of collaborative travels with Russia aboard the Soyuz seem long gone, although the last return leg with an American astronaut on board dates back to 30 March 2022, perhaps the last for a long time judging by the evolution of the international geopolitical situation. But in this special we do not want to touch on topics that we have dealt with in the context of news coverage relating to the Ukrainian conflict currently underway, but rather to talk about the brilliant career of a woman who is preparing to face a new challenge in the aerospace field.
From the link below you can update yourself on the status of the Crew-4 launch mission, see the live broadcast and learn about the developments in real time, while if you want to know more about Samanthe Cristoforetti's career, continue reading.
STUDIES AND TRAINING
Samantha Cristoforetti, born in 1977, is fully part of what has been defined Generation X (ie those born between 1965 and 1980) and is a worthy female representative. She was born in Milan on April 26 but originally from Trento (perhaps she will celebrate her next birthday partly on Earth and partly in orbit), she attends the scientific high school first in Bolzano, then finishing it in the capital city located in the river valley Adige. But her path will not be linear, in fact, it will be interspersed with a year spent in the United States at Saint Paul Central High School in Saint Paul, Minnesota. She will graduate in 1996 and then undertake the master's degree in mechanical engineering at the University of Munich, Germany, which will lead her to graduate in 2001.
As part of his studies he spends four months at the École Nationale Supérieure de l'Aéronautique et de l'Espace in Toulouse, France, during which he works on an experimental aerodynamics project. Later he will also obtain a master's degree in mechanical engineering with a specialization in aerospace propulsion and light structures, writing a thesis on solid rocket propellants.
But her training does not end here and after the master she will be immediately admitted (again in 2001) at the Italian Air Force Academy, based in Pozzuoli. Subsequently she Samantha she will obtain a degree in aeronautical sciences at the University of Naples Federico II, in 2005.
FROM PILOT TO ASTRONAUT
As often happens for many astronauts, the career is military and almost always in aviation. Our Samantha was not far behind in this and after graduation she attended the Euro-NATO Joint Jet Pilot Training program at Sheppard Air Force Base in the United States, where a year later (in 2006) she obtained the recognition of pilot of war.
After his return to Italy he became a pilot at the 132º Flight Group of the 51º Stormo di Istrana in Italy and continued to make a career in the air force for several years, until his retirement dating back to 2019. But his passion for space began a lot. before and her career as an astronaut began in 2009, when she was selected by the ESA (European Space Agency) from among 8,500 participants. She will appear in the list of the 6 best new astronauts and will be the first Italian woman to undertake this career.
In the following years he will continue to train, completing basic training in 2010, until the arrival of the first mission five years later. Expedition 42/43 crew assignment will come in 2012 and Samantha will then begin pre-departure training for her.
We are in 2014 and finally the first trip to the International Space Station arrives aboard a Soyuz spacecraft. The departure will take place on November 23, 2014 from the Baikonur Cosmodrome in Kazakhstan. The mission called "Futura" will last 200 days and will bring it back to Earth on 11 June 2015.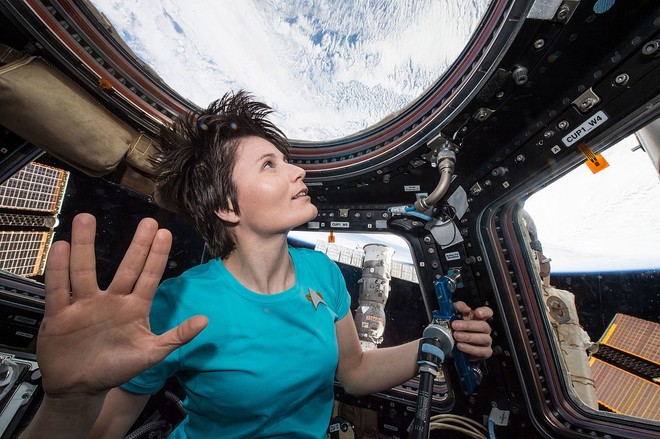 Following the Futura mission, Samantha received technical and management assignments at the European Astronaut Center, which included serving on technical assessment committees for exploration-related projects. She then led the Spaceship EAC initiative, a student-centered team working on the technological challenges of future missions to the Moon. He then served for two years as the crew representative for ESA in the Gateway Lunar Orbital Station project to establish a stopping point around our natural satellite, focusing primarily on crew life support systems and habitability aspects for the I-Hab module which will be provided by ESA.
Samantha was also part of a working group in charge of maintaining contact with the astronauts of the Chinese agency CNSA to define and implement cooperation in the aerospace sector. We arrive in 2017, when the collaboration project with China begins to take shape and she, together with fellow ESA astronaut Matthias Maurer, takes part in a survival exercise at sea organized by the Astronaut Center of China, in the Mar Yellow. It will in fact be the first joint training of Chinese and non-Chinese astronauts in China.
We arrive at 2019 and the last adventure before the next mission, when Samantha served as commander for NASA's 23rd Extreme Environment Mission Operations with a 10-day stay at the world's only underwater research station, named Aquarius.
During this new stay on the ISS Samantha Cristoforetti will be responsible for the United States Orbital Segment (USOS), that is the set of American, European, Japanese and Canadian modules and components of the space station.
CREW-4 MISSION: UPDATES
21/04
Crew-4 mission has been moved a few days, presumably on April 26 from the original date of 23 April. This was communicated by NASA explaining that, as often happens in the occasion of similar delays, the reason is linked to the uncertain weather situation that will not allow the Axiom-1 mission (we talked about it in another special) to complete the return to the Earth before April 24th.
We will therefore have to wait for the release of the first capsule, the Crew Dragon Endeavor, before starting the Crew-4 mission with our Samantha on board. Although dates and times are still subject to change, NASA has announced that if everything goes smoothly, the departure of the Crew-4 mission is scheduled for April 26 at 10.15 according to our time zone, with the possibility of retrying the launch on both 27 and 28 April. We just have to wait for more information.