The picture provided by IDC regarding the smartphone market is difficult to interpret. In fact, the analysis reports the data relating tofull year 2021 and tolast quarter – October-November-December – with opposite trends. The first they just confirm the good things previously reported also by Canalys, with year-over-year growth of 5.7% for shipments that reached 1.35 billion units. Seconds (Q4 2021) show a minus sign, with a decrease compared to the same period of the previous year of 3.2 percentage points.
A difficult situation to decipher, it was said, because this is already the second consecutive negative quarter, a sign of an ongoing trend marked by the chip crisis and the difficulties that logistics continue to encounter due to the global health emergency. Yet 2021 was a positive year as a whole, and this can be interpreted as a signal of strength of a sector that, despite everything, manages to keep and, indeed, to gain share compared to the previous year.
A DIFFICULT QUARTER
Q4 2021 shipments: 362.4 million smartphones, -3.2%
third and fourth quarter 2021: -4.5% compared to the same period of 2020
forecasts: still difficulties in the first part of 2022, growth expected for the second quarter and, above all, for the second part of the year
new push: 5G and foldable
AND Apple to have shipped the largest number of smartphones during the last quarter of 2021, despite a decrease of 2.9% compared to the previous year. Market share is stable at 23.4%, with 84.9 million iPhones shipped. The debut of the iPhone 13 and related mini, Pro and Pro Max variants obviously weighs in, with 40 million units sold in December alone.
Behind Apple there is Samsung, up 8.1% and a market share of 19% with 68.9 million smartphones shipped. They follow Xiaomi (+ 3.9%), Oppo (-11.1%) e I live (-10.9%). Among the top 5 brands, in practice, only Samsung and Xiaomi recorded growth in the fourth quarter.
BUT THE MARKET RULES
2021 shipments: 1.35 billion smartphones, + 5.7%
The 2021 data is positive for all major smartphone manufacturers, with percentages of growth ranging from 6% of Samsung (first with 272 million units shipped) to 29.3% of Xiaomi, third with 191 million behind Apple, second. The ranking is completed by Oppo – fourth – with 133.5 million units and a share of 9.9% (+ 20.1% compared to 2020) and vivo, fifth, with 128.3 million and a share of 9.5% . All figures are up, with the exception of the "others" item, down by 12.5 percentage points.
AND WHAT END HUAWEI HAS DONE?
To understand this, just look at the growth percentages of the top 5 in the 2021 ranking: they are all growing, some more, some less, while "others" are losing ground. And it is interesting to observe how to have gnawed more stakes in Huawei were Xiaomi (+ 29.3%), Oppo (+ 20.1%) and vivo (+ 14.8%).
At the end of 2020, Huawei was in third place behind Apple (2nd) and Samsung (1st) with 189 million smartphones shipped all over the world. The decline on an annual basis had been 21.5%, therefore significant, the brand still resisted not only in the top 5 of the main producers, but even among the top three. 2021 was the year in which the company literally disappeared from international radar, thanks to a ban that effectively ousted it from competition and western markets.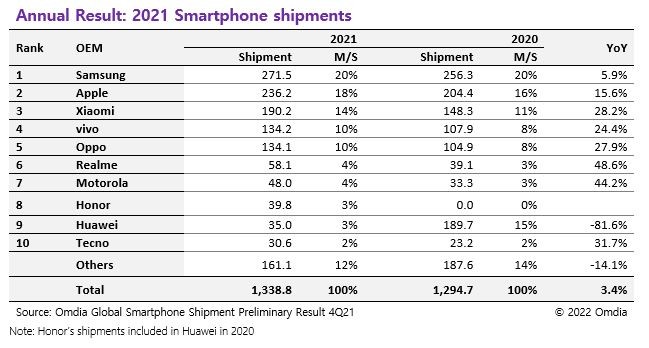 Omdia reports that they would be 35 million smartphones shipped by Huawei in 2021, 81.6% less compared to the previous year. At the same time, the market share fell from 15% to just 3%. Emblematic is the overtaking made by Honor against the former parent company, with 39.8 million units shipped and a share of around 3%.
Observing the data reported by Omdia, we can see how vivo and Oppo have in this case swapped places with respect to IDC estimates. It changes little in substance, with both brands growing strongly compared to the previous year, as well as realme which continues its rise (+ 48.6%) positioning itself ahead of Motorola.