Apple announced its financial results for the second quarter of fiscal year 2022, which ended March 26, 2021. Beating analysts' estimates, the Cupertino-based company announced a record revenue for the March quarter of $ 97.3 billion (higher than the analyst's average estimate of $ 93.89 billion), a 9% increase over the prior year, and a quarterly diluted earnings per share of $ 1.52. Gross margin for the quarter was 43.7%, compared to 42.5% in the same quarter last year. Sales increased 19% in America and rose double-digit in Europe and Asia.
ALL-TIME RECORD FOR SERVICES
Apple set an all-time revenue record for services (App Store, Music, Cloud Services, AppleCare, Payments, etc.) and March quarter revenue record for iPhone, Mac and wearables, home and accessories. The past 7 quarters have been the best 7 ever for Mac.
iPhone: $ 50.57 billion (up 5.5% year-on-year)
Mac: $ 10.43 billion (up 14.3% year-on-year)
iPad: $ 7.65 billion (down 2.2% yoy)
Wearables, Home and Accessories: $ 8.82 billion (up 12.2% year-on-year)
Services: $ 19.82 billion (+ 17.2% yoy)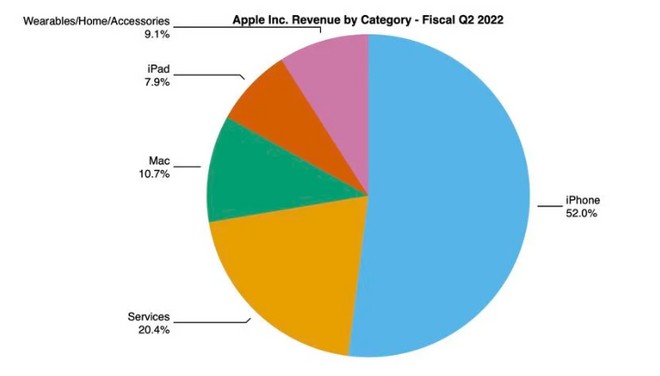 These results come after the all-time record revenue achieved in the December quarter, which saw revenue reach $ 123.9 billion for the first time in its history, results achieved despite the difficulties caused by the continued shortage of chips, lockdown in China and other supply chain problems that hindered Apple's ability to meet demand during the quarter. In the wake of the previous quarter, iPads were particularly affected by these problems.
Apple currently has $ 193 billion in cash and marketable securities: $ 120 billion is total debt and $ 73 billion is net cash. $ 3.8 billion in maturing debt was repaid by Apple and $ 2 billion in commercial paper was increased. $ 27 billion is returned to shareholders through dividends and buybacks on the open market of Apple stock.
Apple's board of directors declared a cash dividend of $ 0.23 per share of the Company's common stock, representing a 5% increase. The dividend is payable on May 12, 2021 to shareholders who are registered as of the close of business on May 9, 2021. The Board of Directors has also authorized an increase of $ 90 billion for the current share repurchase program.
COMMENT FROM THE CEO AND CFO
This is the comment of Tim Cook, the CEO of Apple:
This quarter's record results are a testament to Apple's relentless focus on innovation and our ability to create the best products and services in the world. We are delighted to see the strong customer response to our new products, as well as the progress we are making towards becoming carbon neutral throughout our supply chain and our products by 2030. We are committed, as always, to being a force for the good in the world, both in what we create and in what we leave behind
Tim Cook, in the course of the usual call to profits, acknowledged the "humanitarian tragedy in Ukraine " confirming that thecompany is making donations to humanitarian associations engaged in the field. Cook also said all Apple employees are returning to office in the US and Europe, but things continue to be tough in China.
"These times remind us that we cannot know what the future might hold. The twists and turns may be uncertain but what is certain is that we will never stop striving to be a force for good in the world, with everything we do and all that we are ".
This is the comment by Luca Maestri, Apple's CFO:
We are very pleased with our record results for the March quarter, as we set an all-time revenue record for services and the March quarter revenue record for iPhone, Mac and wearables, home and accessories. Continued strong customer demand for our products has helped us reach an all-time high for our installed base of active devices. Our strong operating performance generated over $ 28 billion in operating cash flow and allowed us to return nearly $ 27 billion to our shareholders during the quarter