About a week after the official debut on the market, set for April 20, AMD Ryzen 7 5800X3D continues to argue with those who seem i first real (and independent) tests in games. However, let's immediately open a brief parenthesis to emphasize that, at least in our opinion, the data that emerged in the past few hours from the Peruvian media XanxoGaming in our opinion they are not to be taken as definitive resultsrather; the reasons are different: the game suite in question does not include many of the latest generation titles used on a large scale, the tests were conducted at 720p and 1080p and, last but not least, we note that the Intel platform compared to the Ryzen 7 5800X3D was certainly penalized by the use of DDR4 3200 memory.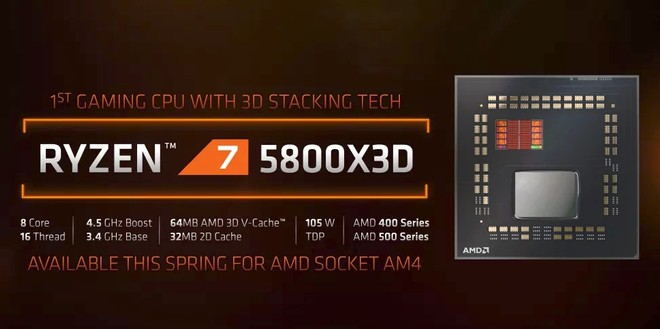 Having made this premise, in our opinion necessary, pending the expiry of the embargo and data from more accredited sources, we note that the new AMD chip is not doing badly at all in the proposed benchmarks (which you will find below); in this case it seems that the Ryzen 7 5800X3D manages to battle on par with a Core i9-12900KF, essentially beating it in three titles: FFXV, Shadow of the Tomb Raider and The Witcher 3.
Except for The Witcher 3, which we don't usually use in our test suite, we find the results obtained in FFXV and Shadow of The Tomb Rider to be at least unreliable. In fact, in past tests, we had obtained over 200 FPS in Shadow of The Tomb Rider with Core i7-12700K and GeForce RTX 3080 12GB (Ultra 1080p), it follows that the average 164 FPS detected by XanxoGaming with Core i9-12900KF and GeForce RTX 3080 There are at least to be verified.
Having said that, we reiterate that we expect to touch the potential of the Ryzen 7 5800X3D first hand to be able to express a definitive judgment; the AMD CPU is still valid and the implementation of the 3D Cache seems to have paid off. Tell us yours in the comments.