AMD Ryzen 7 5800X3D continues to cause discussion and capture our attention, yesterday with the 1080p gaming benchmarks – on par with a Core i9 -12900KF in many titles – today with the preliminary tests in overclocking. The new AMD CPU with 3D V-Cache technologywhich will debut on the market on April 20, is already in the hands of the testers and in the last hours what we can define the first reliable reviews have arrived.
Leaving aside for a moment the results and performances that emerged in the tests in question, the argument shifts to overclockinga practice that as you know AMD strongly advises against this chip, so much so that we can call the Ryzen 7 5800X3D an overclocked processor (at least on paper).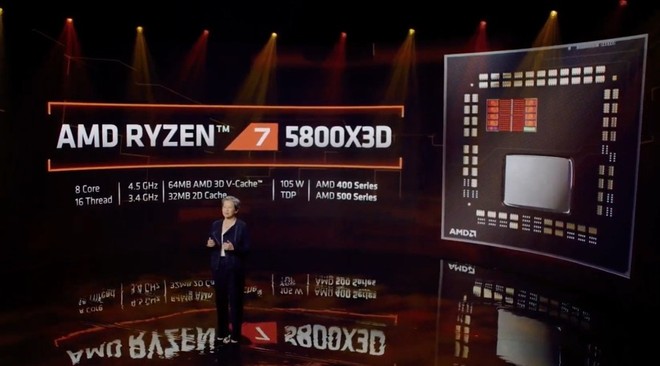 To deny the same AMD – at least for now – comes the well-known overclocker team SkatterBencher who, evidently in possession of the new Ryzen 7, posted on twitter a screenshot with a CPU frequency at 4.8 GHz. For those unfamiliar with the specifications of the Ryzen 7 5800X3D, the Boost frequency of this processor reaches "only" 4.5 GHz, preventing – always technically – any changes in frequencies and voltages precisely due to the implementation of the 3D cache (not it could go beyond 1.35V apparently).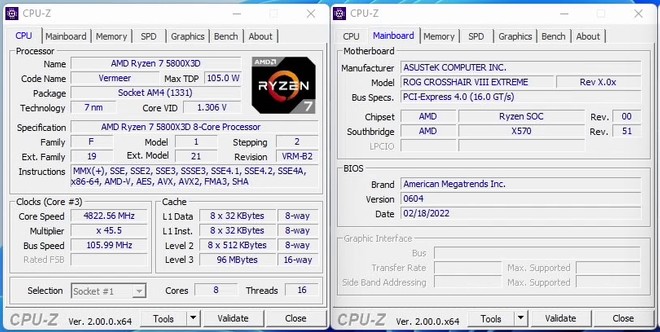 Using a motherboard ASUS ROG Crosshair VIII Extreme, the overclocker has set a VCORE of about 1.31V (1.306 in Windows) with a clock multiplier of 45.5x and BCLOCK increased from 100 to 105.99 MHz; as reported, in order to complete the procedure, the proprietary ASUS Voltage Suspension technology. At the moment it is not clear whether this feature is crucial to "unlock" the Ryzen 7 3D or will also be available on other motherboard models, but the complete procedure will soon arrive in a dedicated video.
Any possibility of circumventing this limit imposed by AMD, or rather by the 3D V-Cache technology, could give a considerable added value to this CPU in terms of performance, especially if we consider the segment of users where this model will be placed (gamer , overclockers and geeks in general). Ryzen 7 5800X3D essentially incorporates the characteristics of the Ryzen 7 5800X, except for the implementation of 64MB of 3D cache that bring the total L3 cache to 96MB, the list price instead is $ 449.