THE Tablet they are not born to replace notebooks. It would be counterproductive both for manufacturers, who in many cases also make PCs, and all in all for consumers, who ultimately already have a computer and wonder why they should buy another device, perhaps redundant.
No. Tablets are created to fit into that gray area between the smartphone and the PC, especially where a good compromise between portability, readability and speed is needed: surfing the Internet, sending emails, playing multimedia content, playing games and so on.
However, there is a tendency that unites the last born of the genre and it is that which concerns the ability to have those soft skills necessary to adapt to the needs imposed by the so-called "agile work".
To understand a little more about the evolutionary stage of the sector, I decided to use a latest generation tablet – the new Lenovo Tab P11 5G – in a context that, by its nature, requires a lot of agility: that of the fair. Below I will tell you about my "tablet-only" experience at the recent Mobile World Congress in Barcelona.
SUMMARY
DESIGN AND WEIGHT: TRAVEL LIGHT
Practicality it was said. In a context such as that of a fair it is necessary travel light, if only for logistical reasons: you have to move from one stand to another and possibly do it without too many burdens on your shoulders. In this respect the Lenovo Tab P11 5G, with its 520 grams of weight, represents a good compromise between portability and solidity: the plastics are of good quality, the three physical buttons (those of the volume and the power button) convey a feeling of reliability.
The bare and raw tablet, however, is not enough. Or at least it is not enough for those who, like me, have decided to make it their only working tool (at least for the three days of the fair). Need one physical keyboard, because let's face it, the virtual one can go as long as it comes to typing passwords or a few lines of text. But when there is so much to write – possibly without wasting time, space and vocals on the street – something more is needed.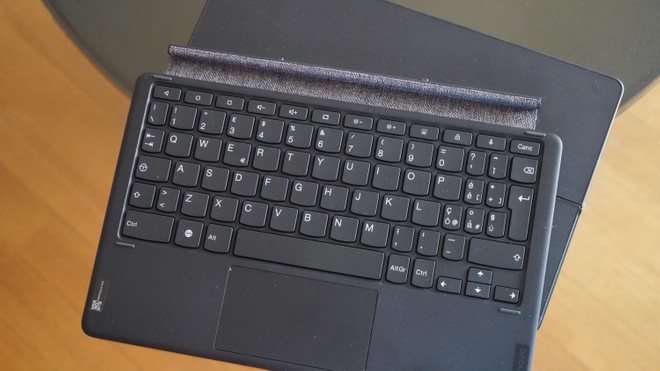 That's why the Lenovo Keyboard P11 Tab in my humble opinion it is an indispensable option: of course, it involves an extra budget of 99 euros (and an extra load of 450 grams), but to have the convenience of a similar 2-in-1 experience complete with a protective cover, articulated stand and trackpad, you cannot ignore such an accessory.
HARDWARE: EVERYTHING YOU NEED, OR ALMOST
Writing articles (and publishing them), taking notes, browsing the web, receiving emails, taking photos, reviewing videos, making video calls, attending lives: my three days in Barcelona were essentially focused on these activities that I wanted – to honor chronicle – play fully with this Lenovo Tab P11 5G.
After a first natural acclimatization with the device, you realize that here is everything you need to live in a context in which you must first of all be reactive and pragmatic. The 11-inch IPS display it is perfect in terms of size, neither too big nor too small, adequate in terms of resolution (2K) and can be read well on all occasions without overdoing it in terms of brightness. In this regard, the Dolby Vision and HDR support, an aspect perhaps not so mandatory in the workplace but far from negligible when it comes to watching films, TV series and other quality multimedia contents. From this point of view it is also worth throwing an eye, or rather an ear, to the audio compartment of the tablet which here boasts of four rugged JBL speakersalready prepared for playing Dolby Atmos content.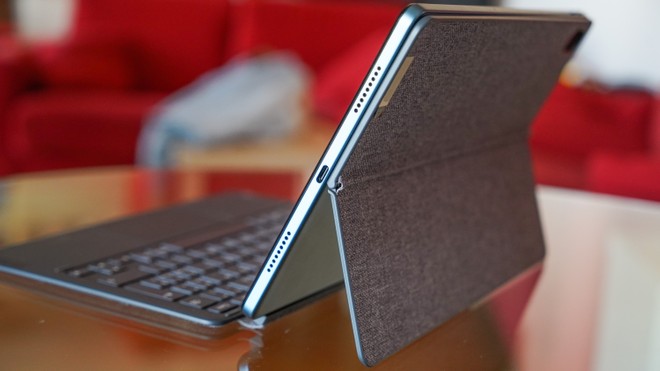 The fair environment allowed us to test the photographic sector which here uses two units: the rear 13MP f / 2.2 with autofocus and dual-tone flash and the front 8 megapixel with 1080p @ 30fps video functionality. It is above all the latter that impressed us, not so much for the quality of the shots (however discreet and enriched by a portrait function), but rather for the good result in video callsa fundamental aspect in our work, also for the amount of live events we support.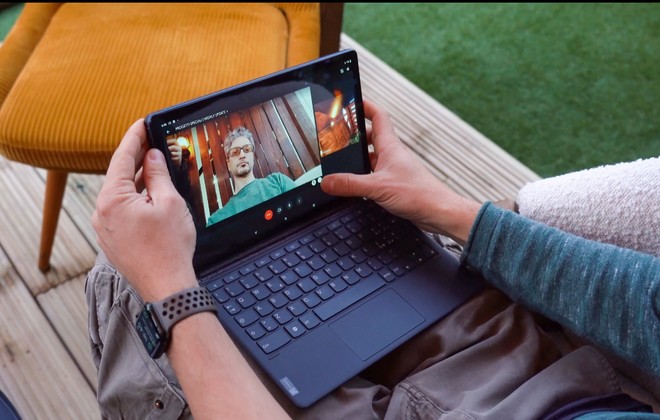 Something is missing? If for the 3.5 " headphone input the gap is now chronic (nowadays true wireless headphones are preferred everywhere), the absence of the fingerprint reader it is instead more impactful. Yes, there is facial recognition, but shooting in a fair (with the mask in order) I would have liked a faster and more reliable option.
All the technical features
Dimensions (H x W x D): 0.79 x 16.3 x 28.5 cm
Weight: 520 g
Qualcomm Snapdragon 750G processor (8 Core, 8x Kryo 570 @ 2.20GHz)
27.94 cm (11 ") IPS screen 2K (2000 x 1200) LCD, 400 nits, Dolby Vision ™ HDR certified, 60Hz refresh rate
8 GB LPDDR4x memory
Storage: 256GB (uMCP, UFS 2.1) expandable with exFAT microSD card up to 1TB
Android 11 operating system
Adreno 619 graphics card
JBL speaker system with Dolby Atmos
Unlock via facial recognition
Front Camera: 8.0MP + ToF Sensor
13 MP rear focus area with autofocus and flash
WLAN 11AC (2×2) & Bluetooth 5.1
USB-C 3.2 first generation port
7700mAh battery
20W power supply
CONNECTED BY DEFINITION
The three days of the fair were more than enough to understand how far you can go with a device like the Lenovo Tab P11 5G. And to understand that, beyond the natural limitations for this kind of devices – which, almost needless to reiterate, are certainly not born to undertake video editing or other heavy executions of the PC world – here is everything you need to take home the result quickly and painlessly.
About some very careful choices by Lenovo, first of all that of the chipset Qualcomm Snapdragon 750G, here equipped with 8GB of RAM and 256GB of expandable UFS 2.2 storage memory. It is an old acquaintance of the mobile world, used among others by Samsung for its A52 5G and by Xiaomi for its Mi 10T Lite, which seems really focused for the type of hardware connected, due to the fluidity, the stability. but also of reduced consumption (I'll talk about this later). Without obviously forgetting theaccess to 5G sub-6 networks: at the Mobile World Congress, outside the press room, I often had to rely on the cellular network and – it must be said – the possibility of traveling at an average of over 500Mbps in downloads without having to beg for WiFi or do thetering is not a trivial matter I count.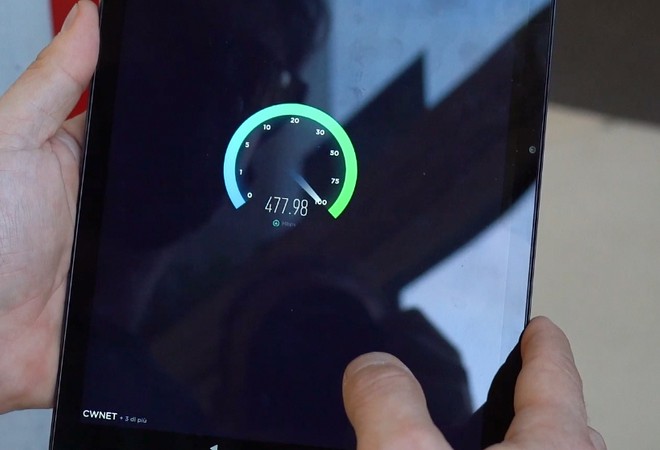 If you want, with the Lenovo Tab P11 5G and a pair of wireless headphones you can also make phone calls, an extreme aspect (difficult, even in a trade fair context to do without the telephone) but still possible. Definitely more useful, however, at least on the working level, the USB-C 3.2 port, which – in addition to charging – can be used as an input for external drives (a hard disk / SSD for example) and as a video output.
SOFTWARE: ANDROID 11, IN OPERATIONAL SAUCE
Lenovo Tab P11 5G comes with Android 11 pre-installed, a choice that perhaps will disappoint those who already anticipated the opportunity to try the new 12L release designed for tablets and folding. Lenovo has however reassured us: the arrival of the update on its range of tablets, including the P11G, is expected in the course of the year; therefore all that remains is to wait.
In the meantime, you can still enjoy the almost stock Android experience, here accompanied by an interesting function called Operative mode. In practice, it is a desktop-like interface to be used when working with the keyboard attached and which in fact allows you to better manage the open windows. The advantage also lies in the presence of a toolbar at the bottom of the screen inspired by the PC experience: there are all the open applications, plus the triplet of the Android keys and the key for access to all applications.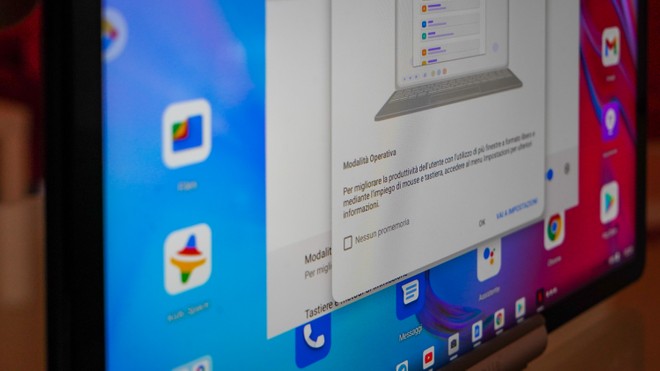 Hidden on the left side of the screen we find the icon for accessing theEntertainment Space, the entertainment area of ​​Google that collects all the multimedia apps (streaming, podcast books). Useful, perhaps, for those who want to demarcate the work experience from that of leisure.
AUTONOMY: LEAVE THE CHARGER AT HOME
The presence of a 7700mAh battery but above all the excellent balance of the aforementioned Qualcomm 750G chipset guarantees this tablet of truly exceptional performance in terms of autonomy.
The 14 hours promises from Lenovo are not a pipe dream (expect 10-15% extra drainage with more intensive use of 5G or video playback) that I leave the charger in the hotel room.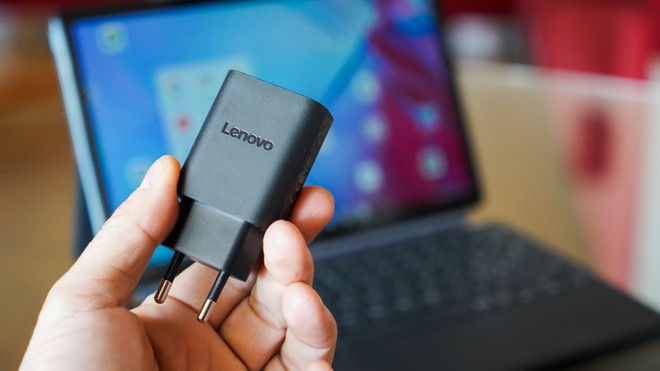 For the record, however, the charger in the package is a 20W power delivery which allows the tablet to be completely discharged to 100% in about 4 hours.
CONCLUSIONS
The price of this Lenovo Tab P11 5G (599 euros) makes us understand that this does not want to be a common tablet for navigation and home entertainment. And our response – overall positive – in a stressful context such as that of a fair demonstrates that Lenovo has carefully analyzed the functional horizon on which this trend will have to move to be successful.
In this sense, the best news comes from autonomy: knowing of being able to leave the house with a portable and ultra-connected product without having to carry the charger with you is an aspect that places this product in the category die hard and – more generally – among the choices intended for those who favor efficiency over all other needs.
The presence of one screen with Dolby Vision and the four sturdy stereo speakers reassure even those who have less professional ambitions and continue to see the tablet as an object mostly intended for recreation. Too bad for the lack of a fingerprint sensor, an unlocking alternative still popular with many.
VIDEO